Before i start, it is with great honour that i can get a sms, follow by a phone call to ask for places to eat. I know i eat alot but when you ask me, i am as clueless as a blind rat. Before going of to eat, i actually spend an hour or two contemplating and reading up on blogs, yes! i am obsessive. I am ready to serve the public and if you are looking out for a recommendation, do not hesitate to ask. He He..Proud already.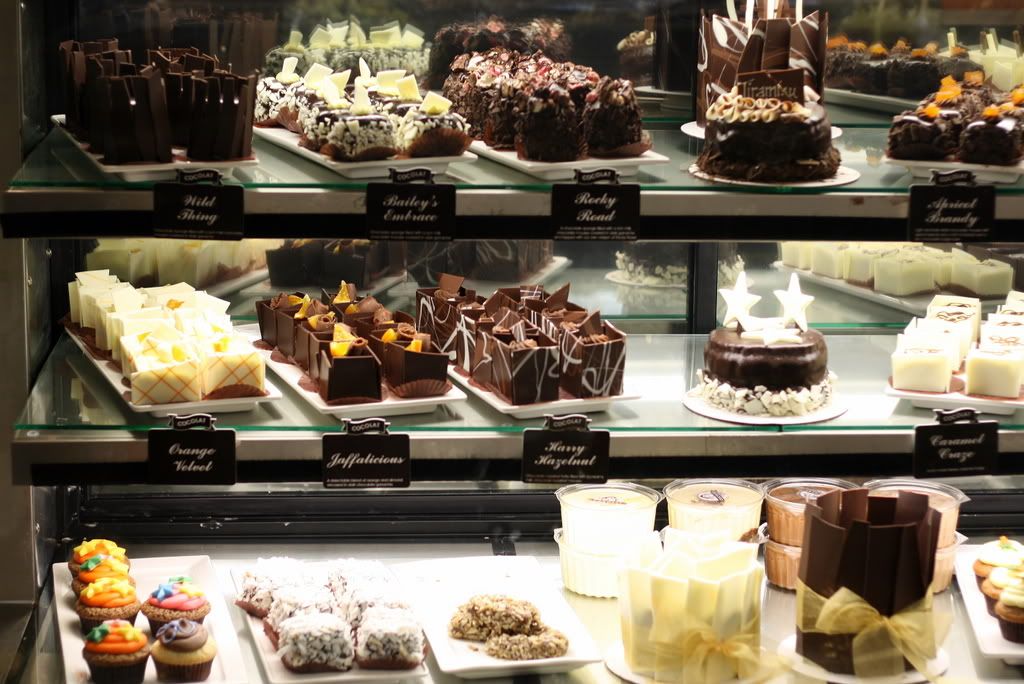 They say desserts are the way to get a woman's heart. I have heard otherwise; apparently starters and mains are very important dishes too. In addition, a door gift and a goodbye kiss are also very important elements to a successful date.
Now Australia have never been a healthy country, or should i say balanced country. On one hand, we have some of the most "biggest" people", yet just around the corner, all the hip, muscular and slim people are there.
So apparently despite the health cautions this place exudes, a crowded place is the norm. Welcome to Cocolat, the land of Chocolate.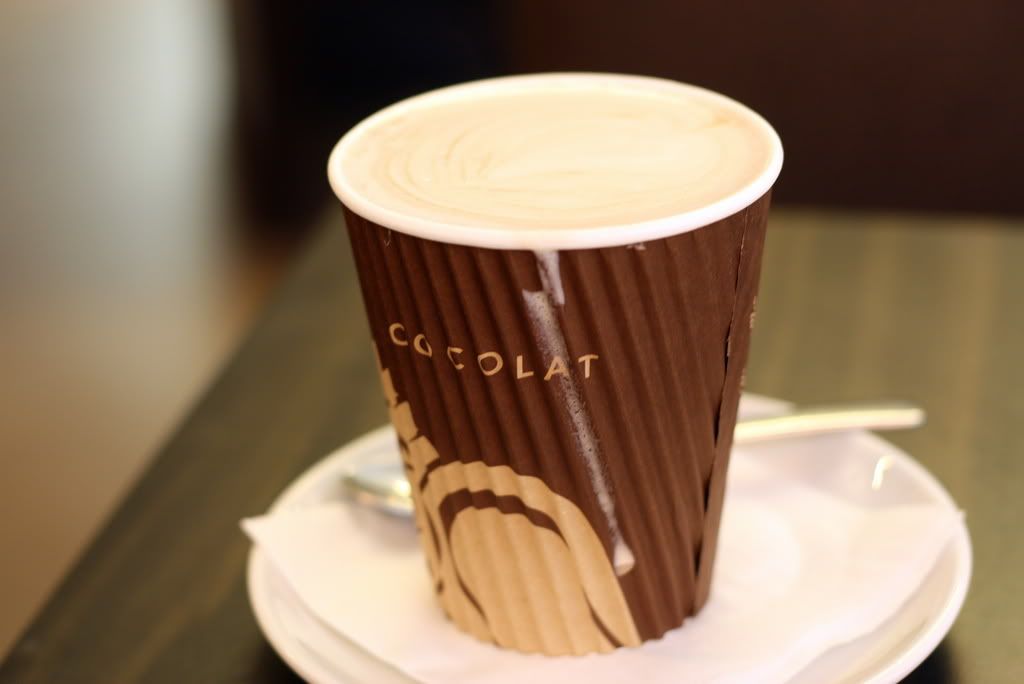 The place that requires you to queue to get a dose of chocolate and smudge your face in desserts, literally. Although my cup of hot chocolate was rather healthy, with a strong flavour of cocoa and a temptation to reach out for sugar. (AUD 4)
The cakes comes in two sizes, the big portion for those who dont care about "calories" and "fat" and a tinier portion (AUD 7.95) for the ladies and guys who cares about their pants getting too tight. This hazelnut cake was as sinful as it could get. Chocolate pieces surrounded the cake with its life, as you struggle to pull the pieces and digest it before attacking the hidden jewel. I definitely felt like a monster in an action movie, while induging in this "god only knows how many calories" piece of cake.
Address and contact details:
281 Rundle SA
Adelaide 5000 SA

Phone: (08) 8232 6133
Ratings: 4 stars out of 5 stars. The ultimate dessert cafe, with a range of gelatos, cakes, drinks and many more. With a motto of "The opposite of "stressed" is "desserts", it is a no brainer to not walk in here after a hard day of work. A more cleaner and well lit dessert place as compared to the seedy one called Elephant Walk which makes you feel like you are in a weed joint but serves a good dessert as well.
Well, another thing before i sign off, is to tell you guys about my ratings. I value ratings like my palate which is rather subjective. Things that play a role in coming up with a score, other then my mood are ambience, price, the food of course and potential to come back again. When i give four stars to lets say an expensive place, its because i find its worth my money, so same goes to a cheaper place with four stars. It does not necessary mean that four stars places will taste the same and vice versa. So the weekend is near, you know what to do? Go eat!