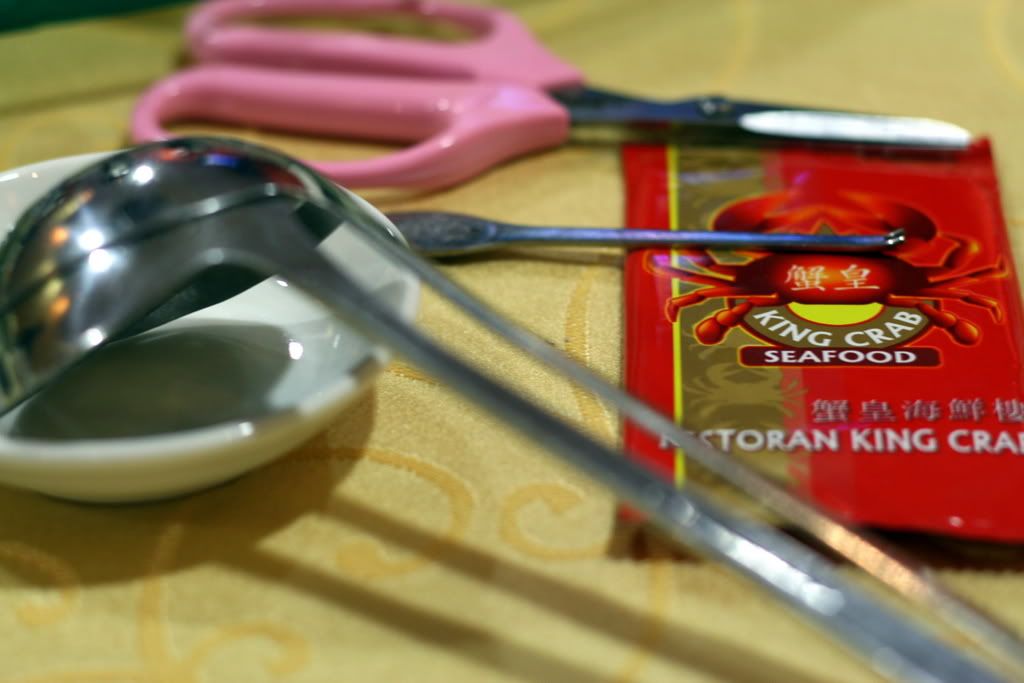 I starred. Through my squinted eyes and a bad memory, i tried to gather the scenes when i saw him. He looked vaguely familiar, could it be the cousin i knew? As i approached him, he didnt seem to respond to my presence but at that split second i really thought i knew him.
Then i paused and greeted "Hi, Harry". He looked back and acknowledged with a nod. He didnt seem very please to see me eventhough i got his name correct. Who would blame him anyways? After all, he was on my dining plate.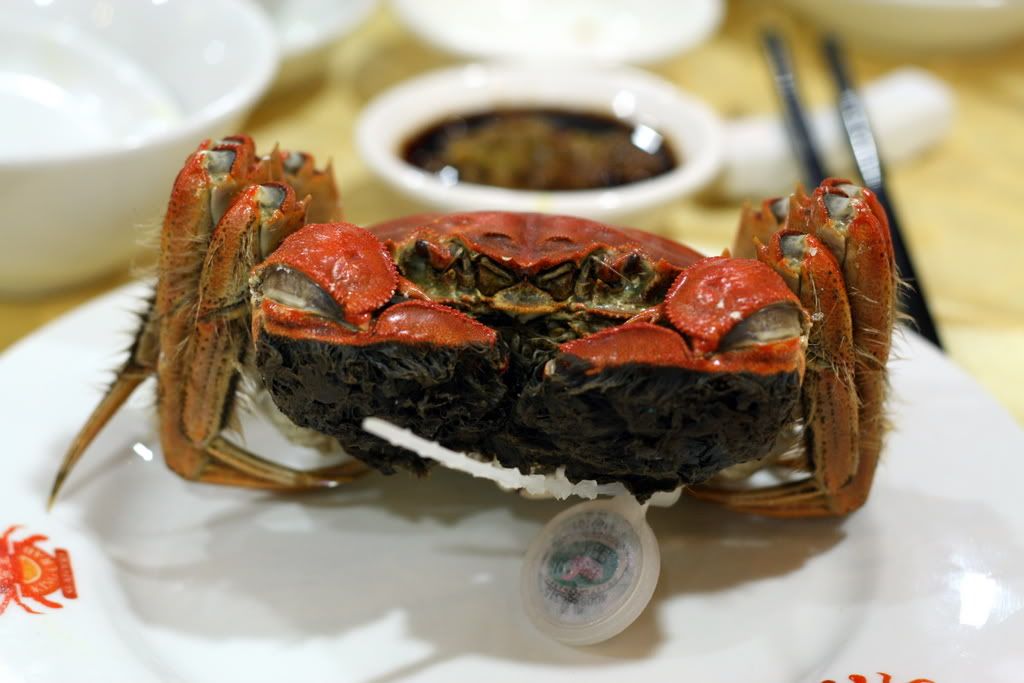 Meet Harry aka Hairy Crab at RM88 a piece.
Enough of the story writing and firstly i must say, despite being the last food blogger in the blogosphere to savour the cooking from King Crab, the feeling sure feels damn good. No longer do i have to get tortured by evil souls telling me about their multiple orgasms from the seafood feast in King Crab because i can dare say, i have tried also.
This particular dinner was a slightly special one because i lost my virginity; my viriginity to hairy crabs. Since it was suppose to be a very memorable event, the best was served and it had to be the crabs from the famous Yang Cheng Lake. This crab comes with an identification tag which gives you a code to be smsed to a hotline to determine if it came from the waters of the clear water lake. Unfortunately, it is only applicable to China, so best of luck if you try your Maxis line. In order, we get the best deal, it was only logical to compare it to the so call "second best", Harry's cousin from Lake Tai which was certainly not cheap at RM78 a pop.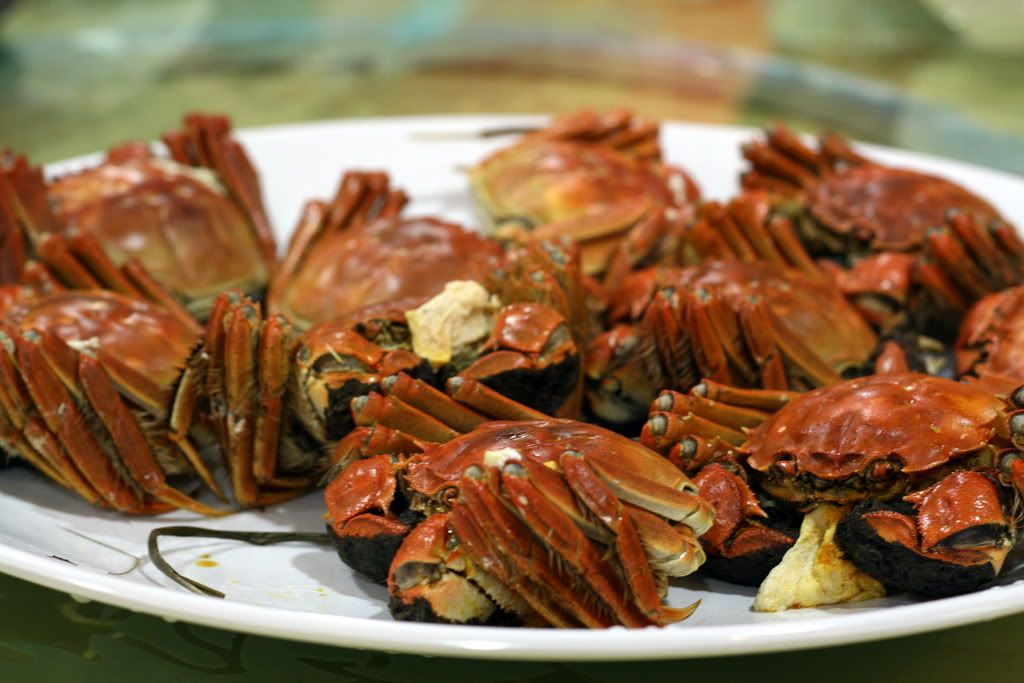 Definitely a very look alike, no wonder i thought this was Harry, or was that one Harry? Argh! They are all clones of Harry! (Hairy crabs from Tai Wu (Lake Tai; direct translation)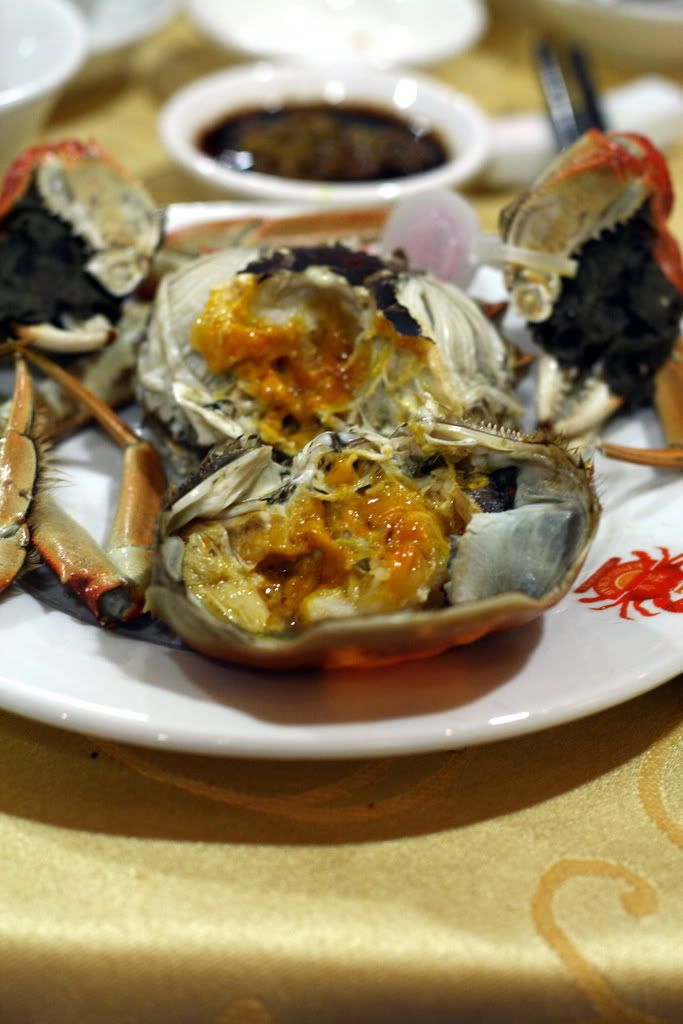 Apparently, it looks cruel and unappetizing to eat but contrary to how disgusting it looks, you are in heaven once you take a sniff of the fragant roe and allow the creamy smooth roe to linger in your taste buds awhile longer. The highlight of this smaller cousin to your usual meatier crabs lie in the bright orange roe that is evident once you split open the crab into two. The meat is also sugar sweet but is not exactly very meaty as you are made to work to cut up the claw and legs.
Beware as the gills and heart was not advised to be put into the mouth as it can get a bit too cooling, imagine winter without a jacket.
The challenge of the night was to determine the difference and why the ultimate title of best Hairy Crab belongs to Yang Cheng Lake but i guess my simplistic taste buds may not had the best of nights. To be honest, both crabs were very good, some said their roes were creamier but mine were equally creamier but the crab from the Yang Cheng Lake had a stronger aroma and at the same time, a thicker stream of roe.
End of the day, the Hairy Crabs were a great delight, an eye opener but if i were to experience tonight dinner again, i think i might save my RM 78 and RM 88 on the other exotic seafood available in the many tanks of King Crab.
So, is that it? Did you just meet Harry? Well obviously, the answer is no. Stay tuned as i post up on the other delights we had, haha man i am evil.
Just in case you cant wait..
Address and contact details:
No: 103-107, Jalan SS25/2
Taman Mewah Jaya
47301 Petaling Jaya
Tel: 03-78082388
Rating: Coming soon..