To be honest with all of you, i am starting to get abit sick of writing about what i have been writing about for the past year, food. It is not that i have lost total interest of food, i still love my grub whether i am sick or not, hungry or full. The question i would like to ask is do you have this feeling whereby you just realise, wait a minute, its about time i treat my fellow readers to another straight forward review and post photos that will make them drool all over their keyboard but cant give a ****? What was once a hobby has turned out to be a standard routine and you cant do anything to fix it. Especially i am not exactly a Shakespeare or JK Rowling, i cant just snap my fingers and turn a food review into a masterpiece or a fantasy story, so what can i do?
I have already started to write my ranting posts but that wont make the cut because i am sure my readers out there are probably slaving at work and cant bear to read another crap story about another tom,dick and harry, now possibly mary and jane and their screwed up life. So what can i do?
So just when all is lost and my life is doomed, i realised i will get to meet my fellow floggers friends in real flesh and blood tommorrow! Now thats what i call a life, meeting them face to face instead of leaving comments on their posts as a way to say hi how do you do.
Before you guys realise that i have just turned around the bush round and round with enough time to take a piss in between the 360 degrees, i am meant to tease you readers, well thats the whole purpose of the post isnt? Although i am no sexy chick that will create any growing pants by taking off my clothes, nor can i scroon any boy bands songs to make your knees weak but i can take photos. With my temperature bursting confidence, i would like to tease all of you, especially those who will be going to Ricks Cafe in another 24 hours, may i present you with this..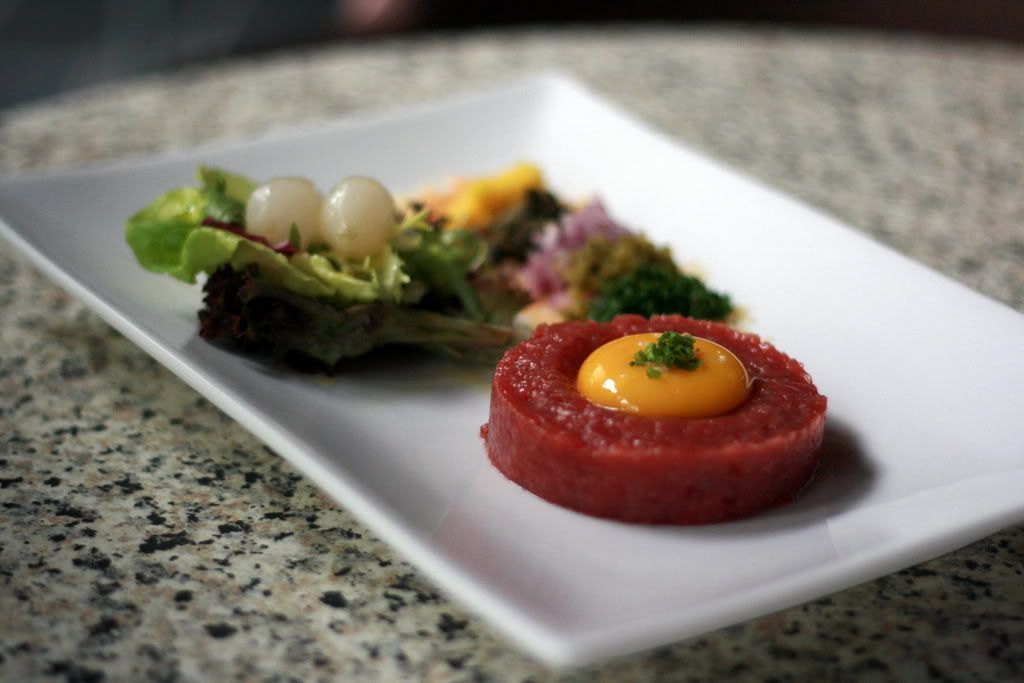 Beef Tartare, some call it barbarian food, now it looks like dog food, but trust me, raw chilled beef tenderloin has never tasted so good..
See you guys tommorow, and yes i hope i have achieved my task of teasing you to the screen, saliva drooling all over your keyboard without boring you to the last sentence.