It is kind of ironic when i was just whining about getting a detox on one hand and out of the blue, i decide to blog about my favourite meat; pork. When it comes to such an obscene yet delicate animal, you tend to trust only those who are fame for managing such a complex animal. One of the places that my friend trusts is Mr Ho. In fact, i never thought much of them, it is in a big shopping complex and they serve rather forgettable pork dishes until one of them ask if El-Cerdo was comparable to Mr Ho. Now that got me to wonder, if my friend had not seen enough of the "piggy world" or was my palate getting kind of numb. So i decided to take a taxi with a couple of friends, one fine day during lunch time to Mid Valley.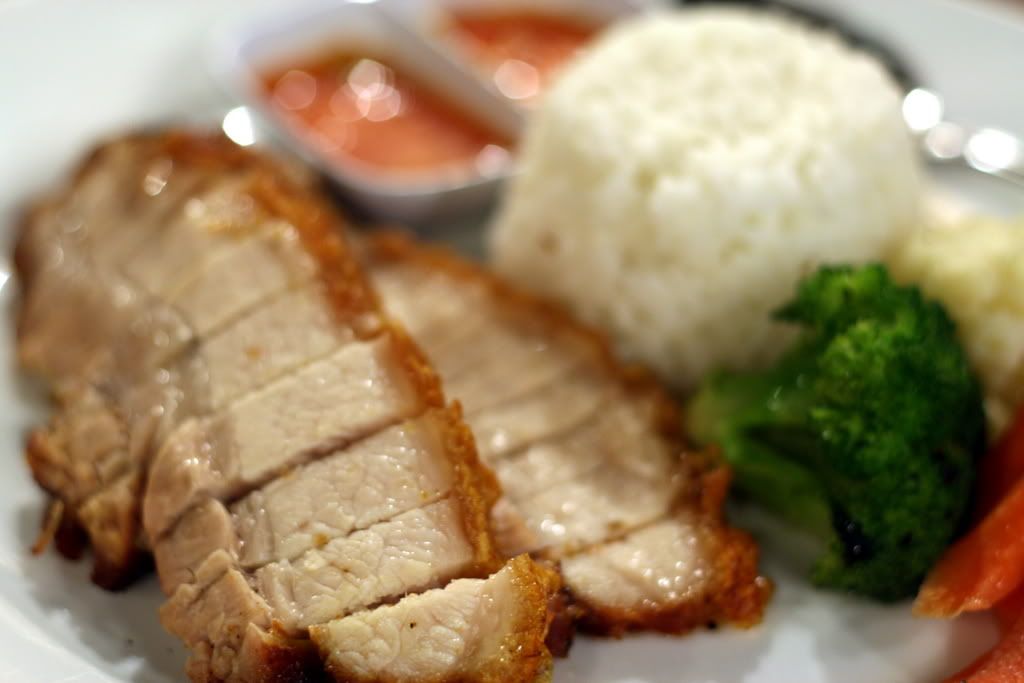 Now Mr Ho is famous for their pork, so it was their signature pork knuckle that we tried along with roast pork aka "siu yuk" which was served with rice or spaghetti. True to his words, the siu yuk was shiny and it was as if i was hallucinating and hearing it call to me. Just looking at the plate of siu yuk fan, which featured rice as a side dish rather then a main dish; i couldnt imagine how my pork knuckle would turned out. While i was busily fantasizing, i noticed a strong protective aura over the plate and true enough, i didnt get an offer to try a piece. What luck!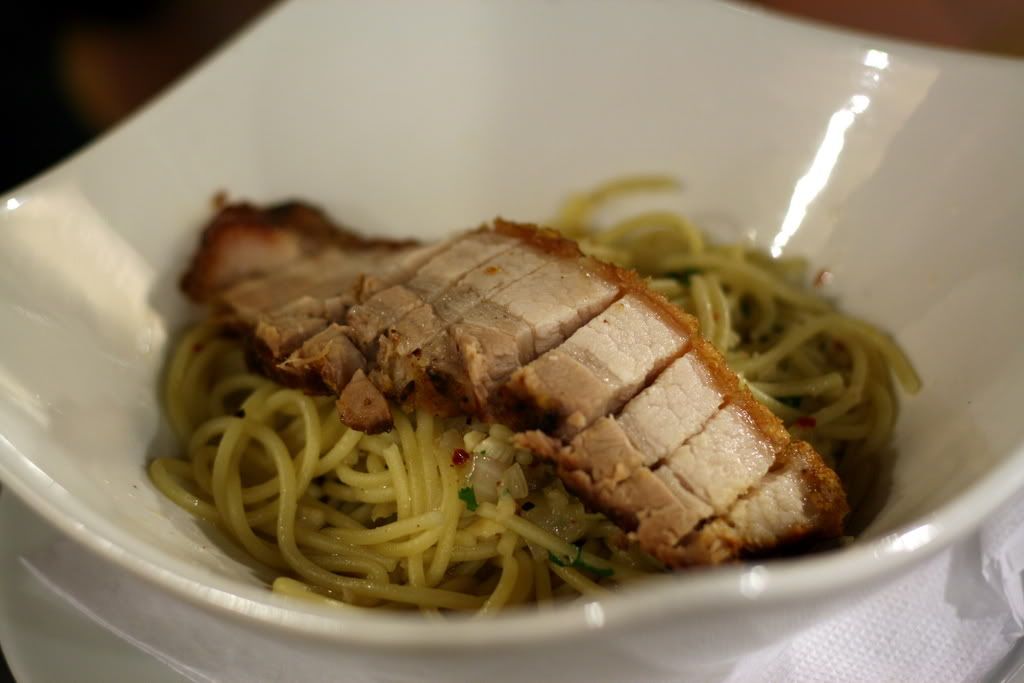 Now apparently when one speaks of fusion; they mean east meets west and one day decides to copulate resulting in a mixed offspring. So Mr Ho did just that and mixed spaghetti with siu yuk and it turned out to be a in-demand kid with lots of attention. Now i wonder if i can make things work with steam fish with ginger and soya sauce accompanied with some ravioli perhaps? By now, i was getting abit agitated with all the pork surrounding me. They all seem to be taunting me that i am still carrying my big fat camera; being to see but unable to eat. Then my dish came..
The one good thing that Mr Ho does is give you the flexibility to try what is meant to be a dish for two by giving you a portion of it. The skin was crispy and the meat tender bordering chewy; very well balanced i must say. I have heard stories about one pork knuckle turning out hard and the other soft but i was glad mine turned out just right. So there we were enjoying a good hardcore meal of pork and i must say i feel sorry for my halal readers for reading this but hey, i am sure you guys wont be salivating at it right?
Address and contact details:
Lot LG-060A, Lower Ground Floor
Mid Valley Megamall, Lingkaran Syed Putra
59200 Kuala Lumpur Malaysia
Tel: 03-22841330
Fax:03-22841330
Verdict: Because it is one of my favourite animals; this has got to be at least a 3.5 stars out of 5 stars. Pricing aint cheap with set lunches going for around RM20++ and the single pork knuckle lunch set for almost RM30++.