As the mystery uncovers to why people flock new shopping centers like pigeons swing towards food, Joe decides to venture further to what food offerings Pavilion got to offer.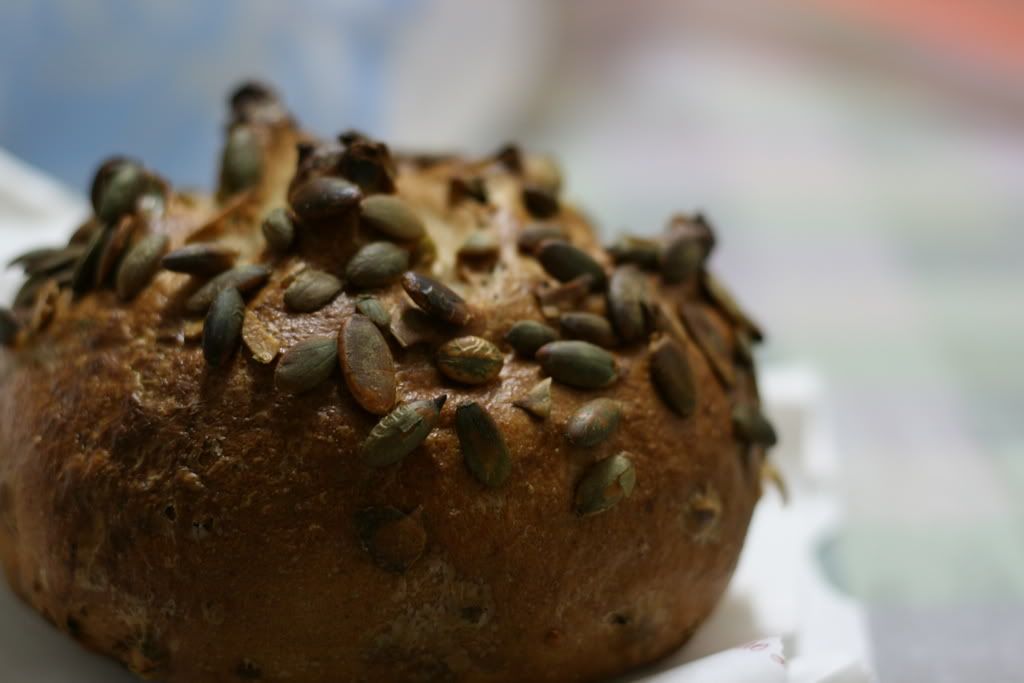 [Pumpkin seed and cinnamon roll RM9.80]
Here comes a new competitor, famed for its bread and so well branded that people can recognise its name despite it being hailed from Langkawi. One of the many brain childs of the Malaysian ex PM and the fact that he stills enjoys the bread even though he is sick in hospital, the bakery definitely has a reputation which i was so eager to try. I randomly picked three pieces of bread just before it was about to close at 9pm on a busy Saturday night, took pictures and tried it the day after. I find it ridiculous when bread started to sell for RM18 a loaf, but never did i imagine paying almost RM 10 for a piece of bread that could pass for a baseball or a stone.
Infact i was confused by the different sizes they had of the same kind of bread. The story goes
"Rm17.65 please"
"17 what? for that 3 pieces of bread? Did i get you correct? I looked back at the price of that pumpkin bread and saw RM2.60"
"The pumpkin one is RM9.80. RM2.60 is for the petit one"
At this point, Joe runs to the basket, frantically looking for a small one. Indeed it was small and in the same basket. Once again he was conned legally and in defeat he took out the money and paid.
As he bites into that piece of bread, pumpkin seeds spill and the strong infusion of cinnamon is evident although a bit blunt and strong. It was a pity because it was real solid though. The sweet one with the orange peel was good, but then again buying at night and leaving it for the day after is not a good idea as it was yet again on the hard side.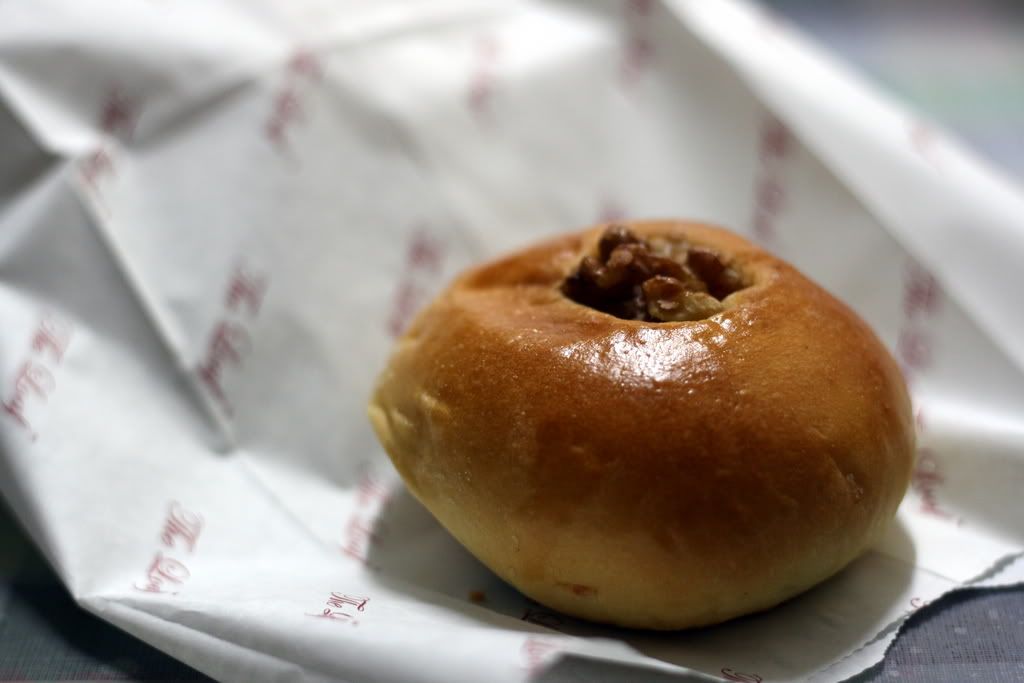 [Red bean bun (RM3 plus)]
The last and probably the better one was the red bean bun. The walnut added a contrast to the smooth red bean paste but then again i didnt like the hard piece of dough surrounding it.
As Joe lets the pieces of dough digest in his system, he wonders if it was a good idea to forgo that long queue at J&Co where he could as a natural glutton took away a dozen of calorie bursting donuts. Well, theres always tomorrow. Anyone interested? Thursday night around 7.
Address and contact details:

The Loaf
Lot 3.13.00 & 4.12.02
Pavilion Kuala Lumpur

Tel: 03-21453036

Rating: 3 stars out of 5 stars, i think i had enough of expensive bread, seriously is it better then a nice hot steaming bowl of noodles? Top floor apparently is for fine dining but after the fine bread i had, maybe i better not.