When i first started blogging, i never imagined that blogging could create chances to meet other people unless you risk going to dodgy "i am desperate to meet other people, preferably of the opposite sex" sites. The first bunch of people that i met, owners of blogs that i would religiously read everyday, more often then the newspapers were the food blogs. That was a dead give away considering that i blog about food almost all the time. Now other then that, i had the opportunity to lunch with another up and rising prominent blogger,
Zewt
.
I remember reading his blog awhile ago, and it grew to garner alot of comments. Surprisingly as a busy traffic blog, he attended to each and every comment and visited their respective blogs as well. So another friend made, and despite his reputation for deep thought entries and my reputation to just babble on about how good the food is, we did meet up for lunch before i moved office to Sentral to well.. just meet up.
Thus my food review..Situated in a small corner of Wisma Cosway, the place where everyone along the street would go for lunch seats a small humble Japanese restaurant. As everyone might know, my application to become a member of the hyped up Japanese Food Kawan association is still being
considered
thus a timely review to show how committed i am to Japanese cuisine, with two humble bento sets.
A small cosy place, this is a place that serves cheap bento sets starting from RM20 onwards and i could also see Japanese joining the local crowd eating sashimi and tempura which shows a sign of authencity. All in all, although forgetable this is still a place i would frequently visit if my office was just next door.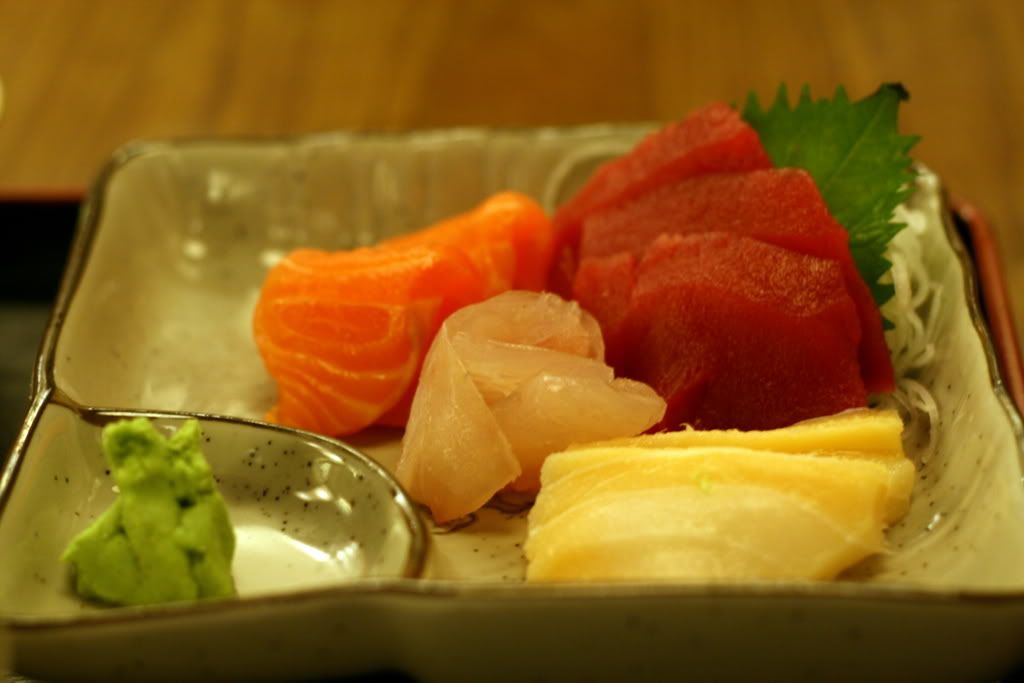 My sashimi bento that came with decently fresh cuts of salmon, tuna and two unidentifiable fish that i dearly enjoyed though. Not that i am not well versed in my food, but its a cut of snapper and truthfully i was just too amazed at the texture when i was chewing at it piece by piece.
Well, i had to snap a picture eventhough i didnt try right? He obliged and i happily snapped away until it was perfect. A tempting picture of teriyaki chicken.
Through out the short lunch, we had a conversation about what else but the current environment in our country and the greener pastures everywhere else. An eye opening lunch with a blogger that well blogs about everything else other then food.
Address and contact details:
Ground Floor, Lot G22-24, Wisma Cosway,
88, Jalan Raja Chulan,
50200, Kuala Lumpur, Malaysia
Tel: 03-21489390/21443416
A decent rating of 3.5 stars out of 5 stars, call me bias but i adore my Japanese food.