When i was approached like many others, i had no idea wat '888' would offer me other then the fact that it is probably opened up by a very superstitious person who is probably going to get richer by the day by luring customers into his humble cafe. To be further confused by knowing that the ex-La Bodega chef is heading the kitchen, i was left dreaming about dim-sum tapas or wondering how kaya and toast could be transformed into pate and pita bread.
Situated in an area that i have never ventured before, way straight into Kota Damansara passing the familiar buildings of the Curve and Ikano, the cafe is a corner unit with a bright white atmosphere that yells "come in, look i am new and clean!".
So what lured me here? The owner of this place via Timothy, Mr Ang decided that the floggers would be a good benchmark for where his food and beverages stand in the market. After all, we dont have big bellies and daily reviews to show you, if we dont know how to differentiate from chicken and beef or tell good food from crap food.
A little about this place, like any normal cafe that have a speciality and it lies in their coffee. The brand name '888' apparently comes from their coffee and the name has expanded to the cafe business. When asked what are they special for, the reply was their coffee and toast as a light snack, sizzling plates for western lovers and their peranakan plate, nasi lemak and nyona laksa to satisfy the local palate. I was apparently upset that i couldnt find any tapas from the menu but lets not complain because i have got a whole load of pictures.
Now i contemplated long and hard on whether to post some pictures, mainly because i have already been taunted that i have large pieces of equipment while majority had theirs in the pocket. I beg to differ and i would like to show you that my camera aint perfect. Ok, put on your napkin and start drooling..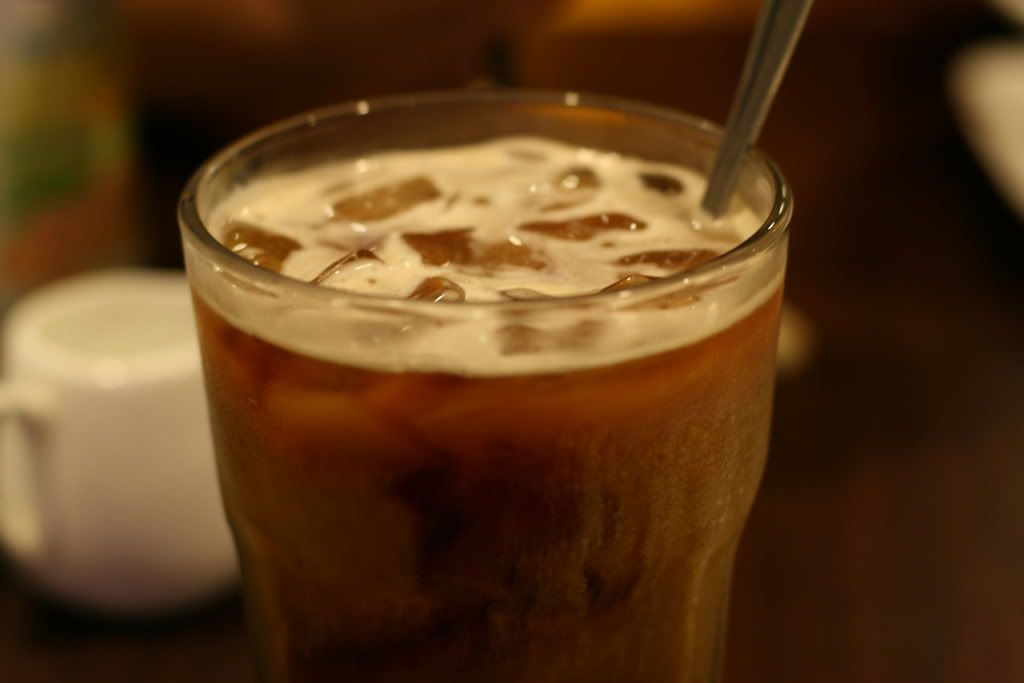 The special blend iced coffee was aromatic and eventhough i had a slight block nose, i could still smell the fresh brew. Problem was after i added milk and abit of liquid sugar along with the ice, i felt the coffee was too watery and not "kao" enough for my liking. Apparently the hot version doesnt give that problem, maybe its the ice. I should start learning how to "lim teh aka drink coffee" the pakcik (uncle) way..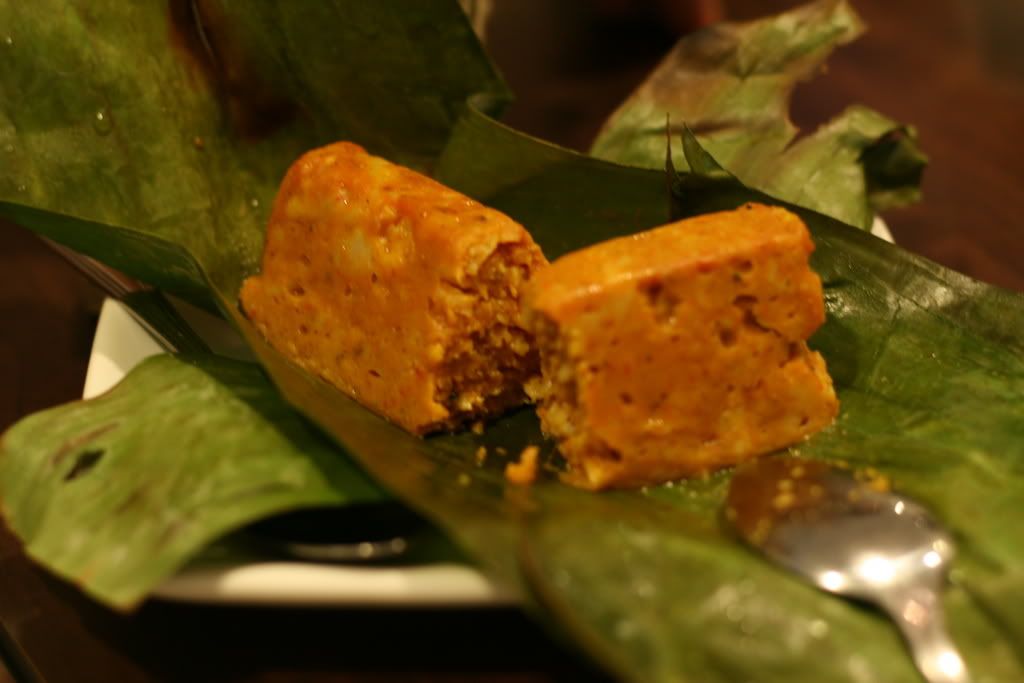 The Otak-otak. It tasted abit too spicy for me but the creamy concoction of seafood mousse wrapped in a banana leaf was an eye opener. Honestly till now, i dont exactly have a benchmark to benchmark against.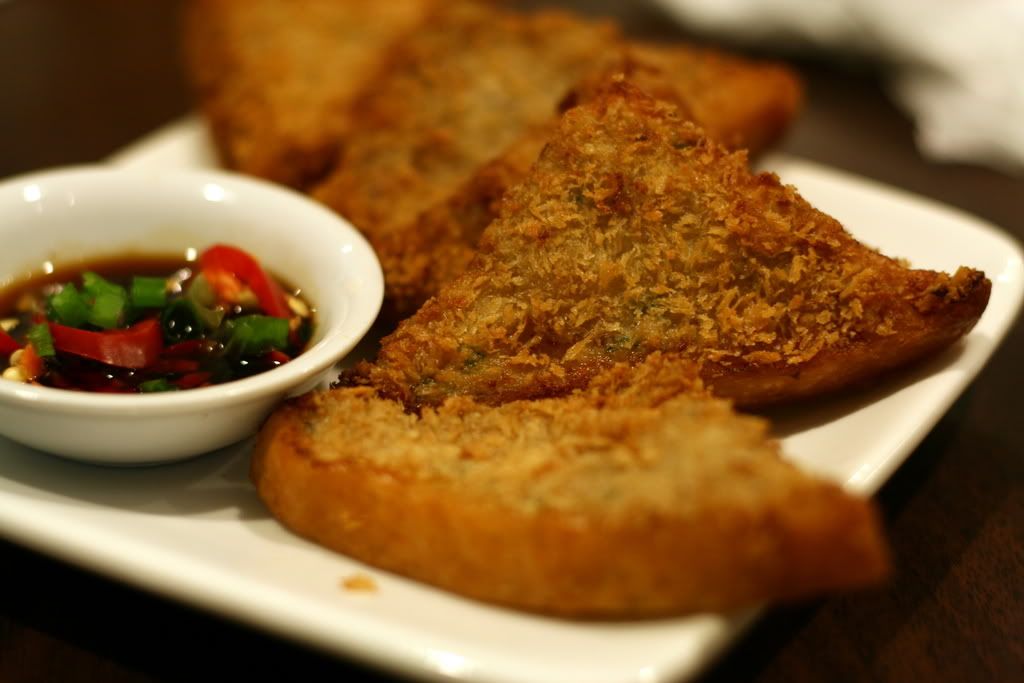 Shrimp toastie is an excellent choice for a quick snack while talking over coffee. Although the soya sauce with chillies seemed abit out of place.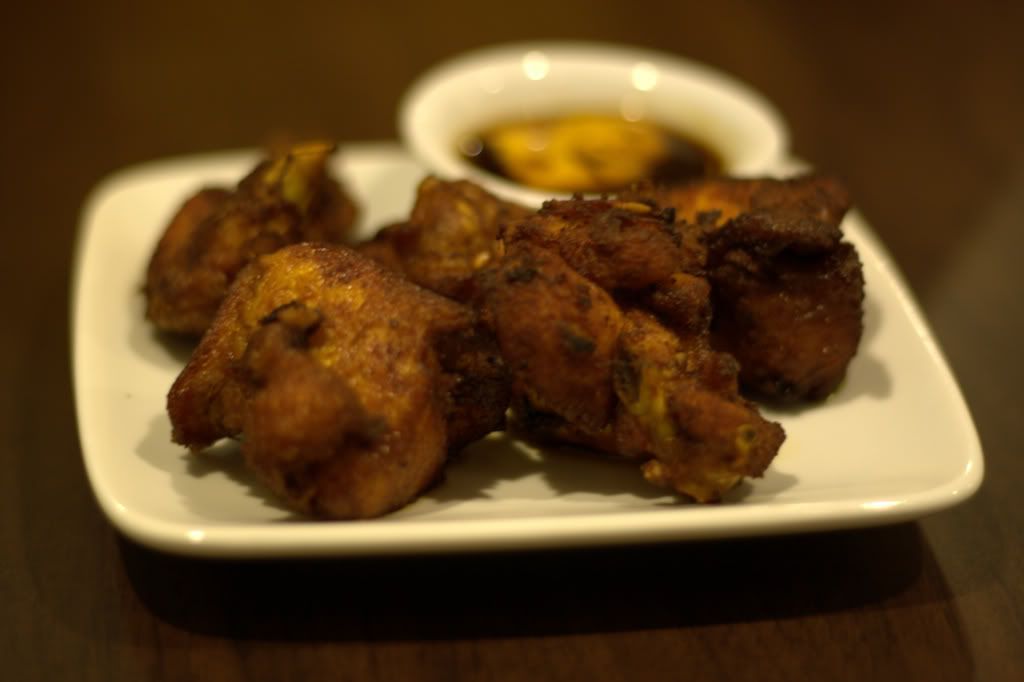 Feeling itchy? The Inchi Kabin or famously known as itchy chicken that night is another protein snack for those who are conscious of their carb intake. Marinated with spices, it was mild but the le perrin and mustard dip was creative. Comments about their cut of meat chosen was rather subjective as i loved the breast meat pieces that i popped into my mouth.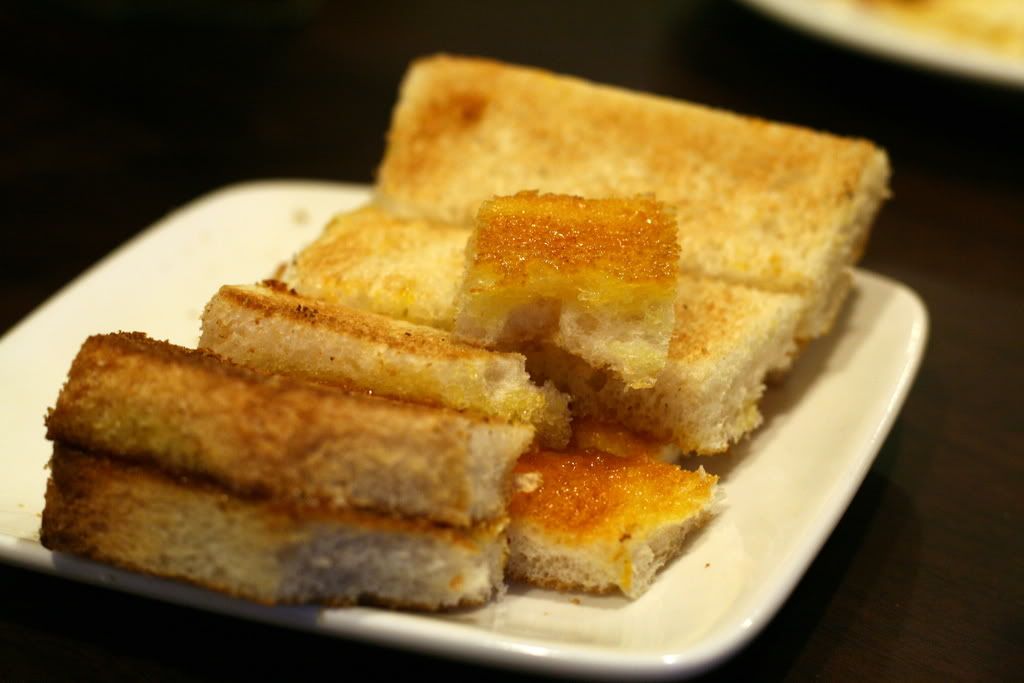 I couldnt pin-point whether i liked the kaya toast or not. The kaya used wasnt exactly the greenish ones i have been accustomed to and was rather sparingly spread. Then again, i couldnt find any fault in the toast itself. Again another simple affair with your coffee.
Moving along rather quickly, the mains for the night. As promised, we were shown the diversity that 888 try to offer to their customers and we started off with a Char Kuey Teow.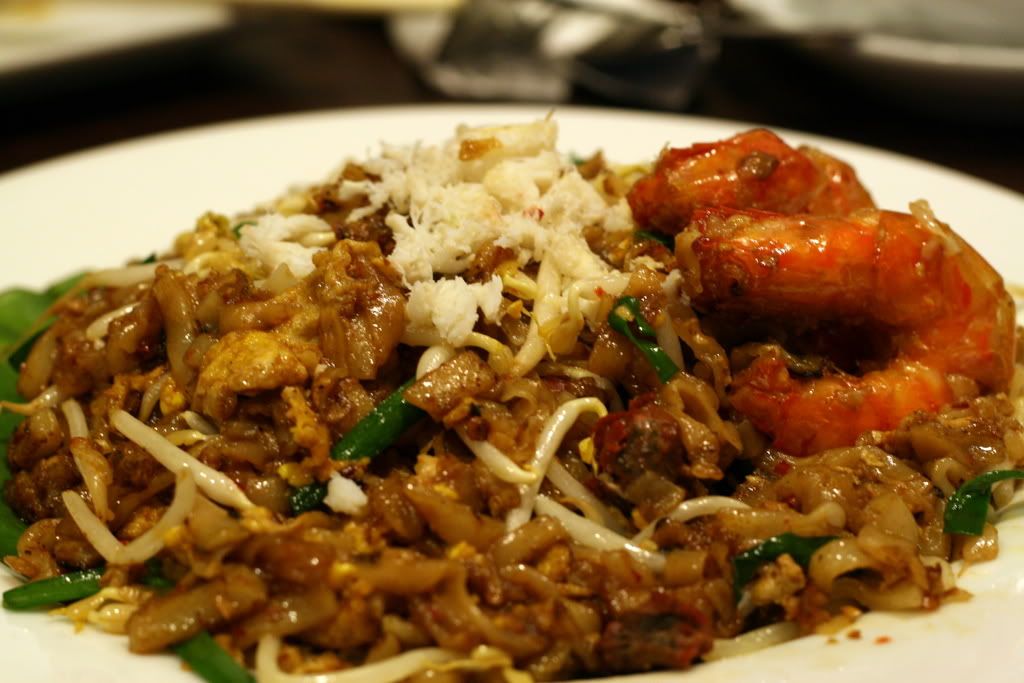 The iconic symbol of Penang, Char Kuey Teow is sometimes taken very seriously especially those who have queued half an hour to buy a plate of noodles that cost RM8 (self-service). There was nothing wrong with it but yet there was nothing very bright about it either. The big prawns and the crab meat tried to lift the game and i like the thinner version of kuey teow for the dish.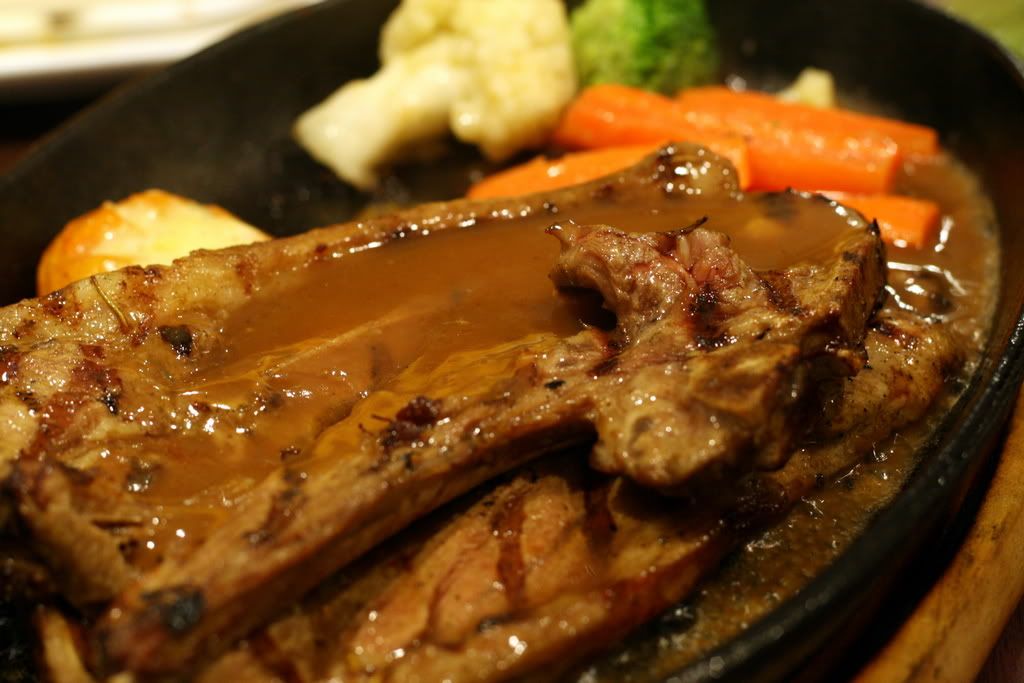 A jump to the Sizzling plates, as promised. Apparently at this point, my nose was blocked again and i couldnt identify the 'gamey smell' that hit FBB's nose like a rocket. Yet as i offered to carve out the meat from the lamb shoulder so it would be easy to just pick from it, he hesitated and popped a piece in his mouth and say hey its not too bad. Not too bad was probably an understatement as i found this pretty well done with no fault. The only problem with eating sizzling plates, becareful that it will continue to cook whats on your plate and take care it doesnt get burnt which happened to us as it happily sizzled away while we snapped photos.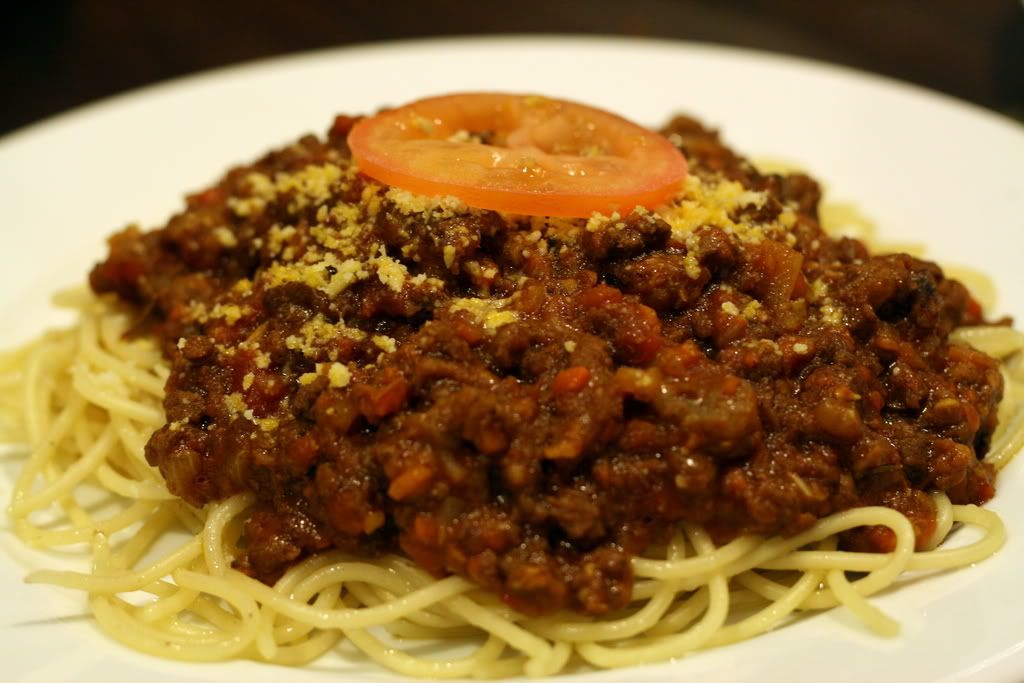 Moving onto pasta, i had no problems with such a "home cooked feel" dish..Although picky eaters will forever say things like over-cooked, cant identify the meat and etc,etc,etc.. Perhaps you could put another 2 slices of tomatoes?
The Aglio-Olio fared better with the abundant use of garlic complimented with chili flakes. By now i was abit sick of the prawns, fresh as they were but it had already been featured one too many times as you look below.. A nice dish and worth trying..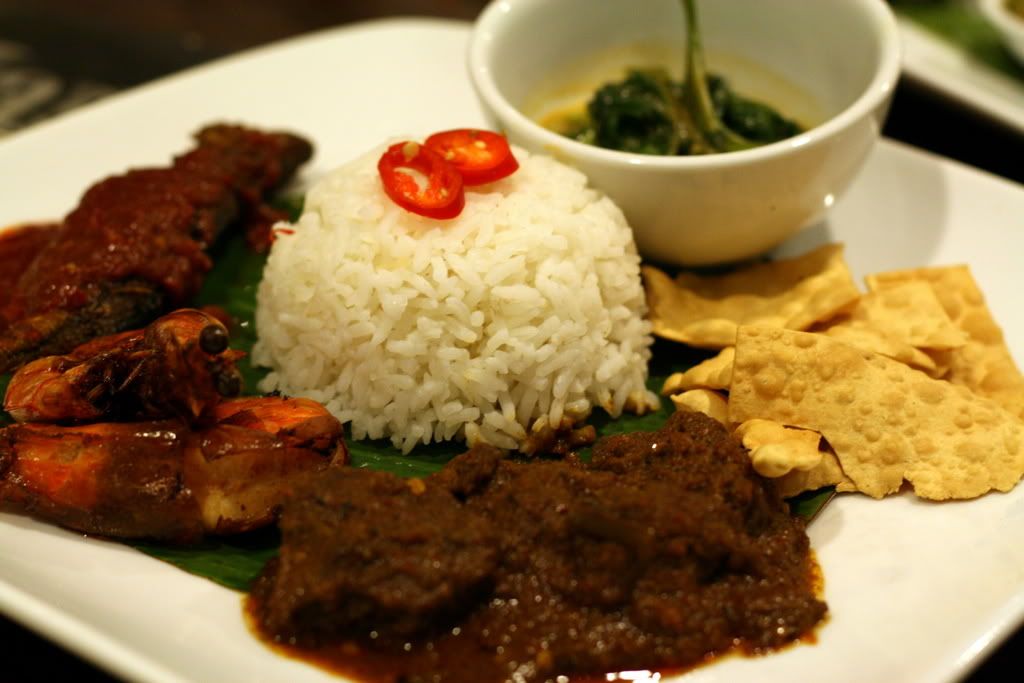 The two plates, Nyonya and Peranakan plate looked a tad too similar with beef substituting chicken and sotong replacing fish. Perhaps a suggestion is to combine it? Alternate the meats between the days?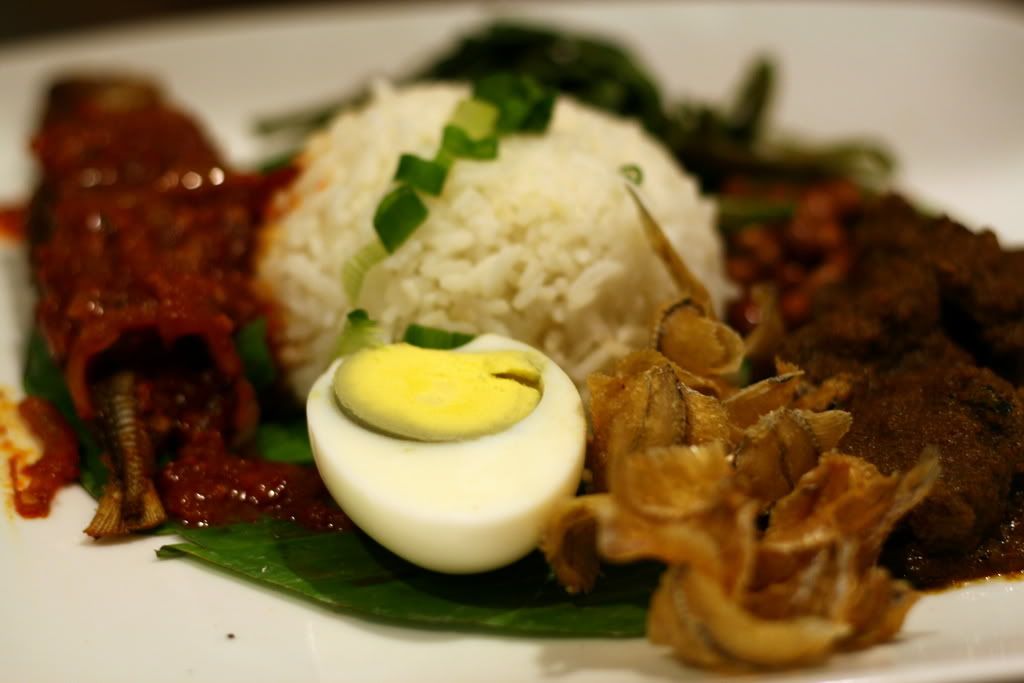 The nasi lemak came with a skinny looking fish and being bias of course, i hate bony and skinny fishes. I like full bodied meaty fish that i can dig in without worrying.. The rice lacked the aroma and coconut taste, a healthier approach but too much taste was sacrificed.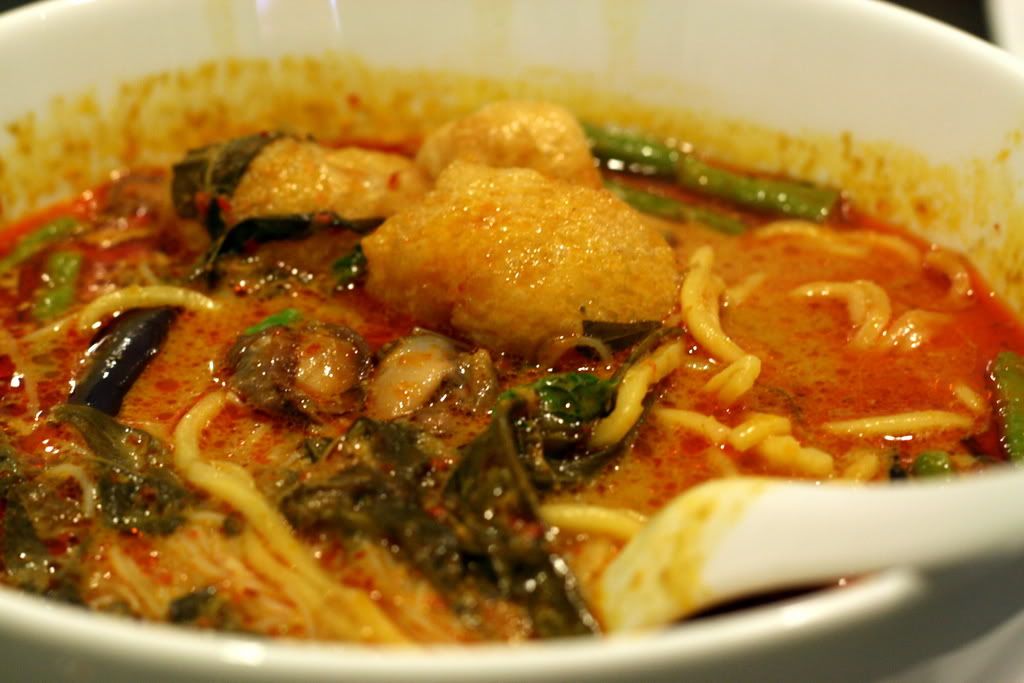 I admit its my fault for messing up the presentation but the Nyonya Laksa stood up pretty well as it disguised itself as a Curry Laksa and left us with an Assam Laksa aftertaste. Weird as it may sound, but alot of people was fascinated by the formula and digged in spoonful after spoonful.
Just when we thought we would end in peace, FBB offered us his latest best seller, the Chilled Durian Cheesecake. As a year long birthday celebration for Jackson, we sang happy birthday and danced over the over-powering attention seeking cake.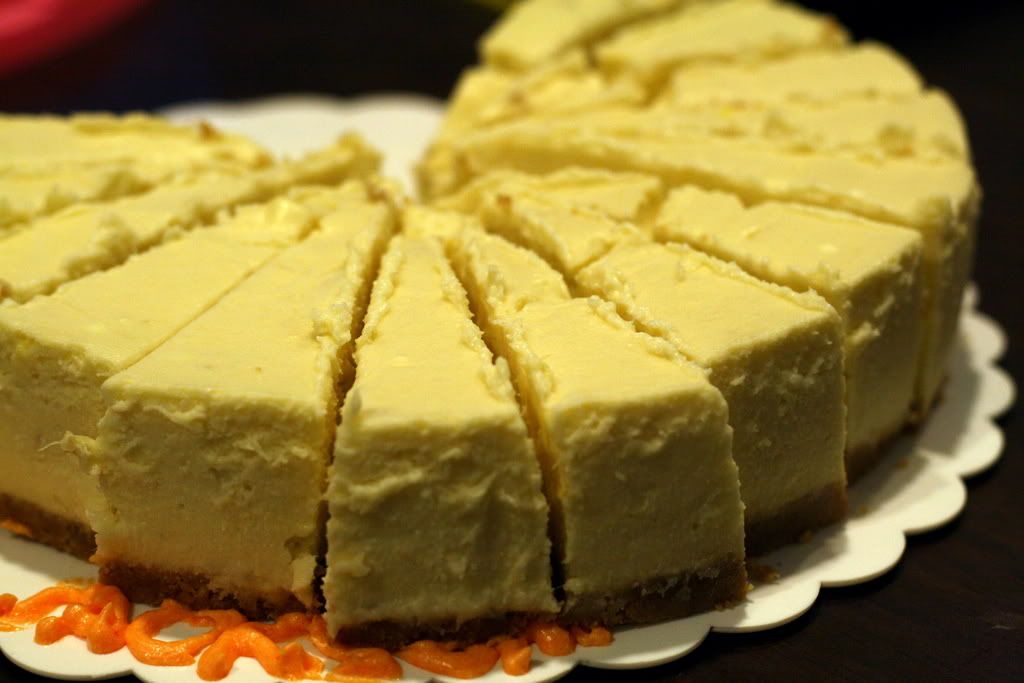 What can i say? The cheese could have made a bigger impact i felt, as it felt too gelatine like but the durian was obviously the super star in the cake. The biscuit crust (aka the base, which shows how poor my England is, so would anyone like to sponsor a ticket to London so i can brush up my England?), bias again is a definite for a cheesecake.
Address and contact details:
888 Cafe
1-1, Jalan PJU 5/10
Dataran Sunway
47810 Petaling Jaya
Selangor Darul Ehsan
Tel: 03-61416560
Rating: 3 out of 5 stars, a brilliant place to get a coffee and a light snack or a simple meal, nothing more and nothing less.