I am turning twenty two (22) on Thursday (*hint* *hint*)..
To me, birthdays are a very special occasion when you turn sweet 16 but somehow guys dont get the same treatment as girls do because somehow they appear to control their parents by the wallet and demand a party and guys being guys, blowing a birthday cake is deemed to be too embarrassing.
Then its 18, when you are of the legal age to drive and drink at different times. Smoking is also legal too and infact almost everything is legal except entering into Zouk or Velvet if you are guy. Again, girls seem to have preferential treatment in this area.
Obviously the next age when one can really celebrate is 21 when you are considered old enough to venture the world without squeezing your parents dry and taking every single penny along the way.
So what is 22? Another year and another reason to celebrate that 3-0 is very far away..what else is there to look forward to?
Back to the restaurant and review as it will do it no justice if i continue to tell the whole world my birthday is coming soon. Now being a very important person with lots of friends (take note that i am still available from now till my birthday and after my birthday), my girl friend decided to book me way in advance last Saturday to have a romantic dinner in Nerovivo. She wanted El-cerdo but i would have to shout on top of my lungs to say shes so sweet and etc etc etc (just like the King in "the King and I")..Accompanied by rather loud but soothing music, i was greeted by a long hair presumably Italian with a strong accent which reminded me of my Maths teacher who would torture poor souls by spitting at them while talking rather loudly during our Maths lesson. Needless to say, i was afraid for my food throughout the night.
I was served by another slightly chubby italian and was introduced to lobster, a special of the night. After some confusion on whether i could turn it from a starter to a main due to the plenty terms used throughout the blur 3 minute conversation that involved words like entree (which i understand is a starter but could also be used as a main), i ordered a half lobster with linguine tossed with olive oil and a 800gm T-Bone steak. If the kind soul had not told me how big the serves were, a beef carpaccio was meant to be on the way as well.
Starting off with a glass of Nero D'avola IGT Vino Rosso Tenimenti 2003 at RM 22, it was a rather smooth and pleasant wine to drink with a hint of spiciness as an aftertaste. Not to mention my still water that cost me a whopping RM20 for a litre, but who is to complain when one is staring at their loved ones and soaking every second of that atmosphere?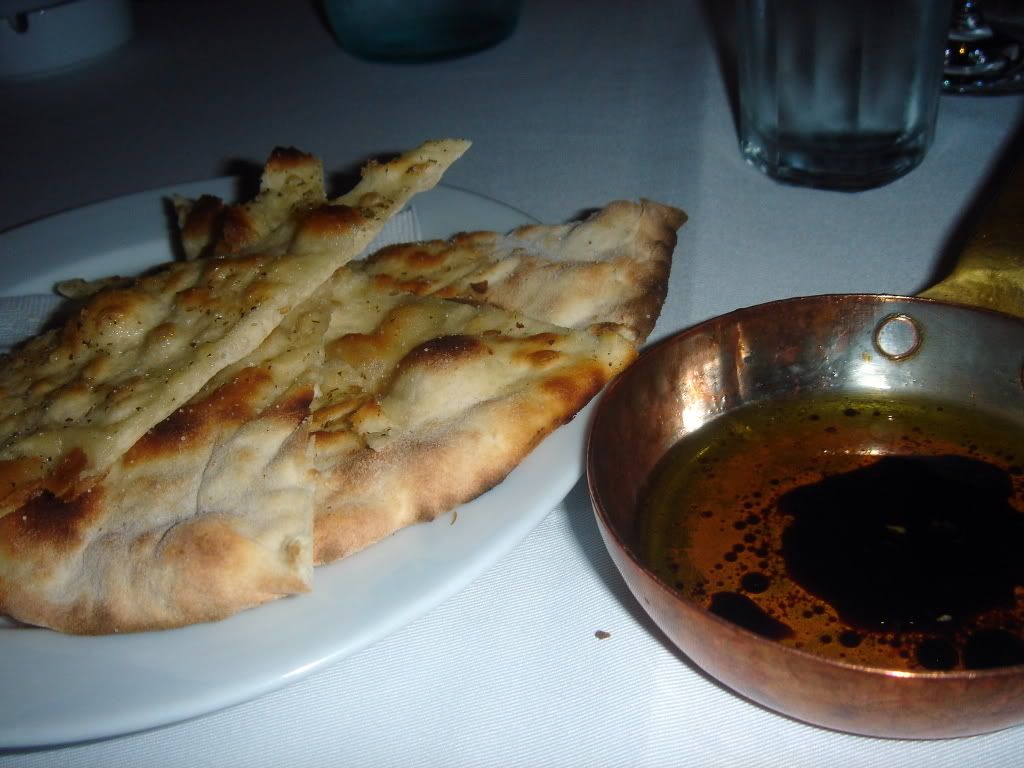 A pita like pizza bread was served next and immediately we wished we were at their sister outlet, Neroteca having their freshly baked focaccia instead.


Looking at the lobster claw, one would have think of plenty of meat and lobster chunks. Unfortunately, i thought one step back about being warned about a 500gm half lobster which is to be honest rather skinny. So what i had was shreds of meat as opposed to the chunks which i was thinking of. The linguine was on the hard side despite understanding the meaning of al-dente and the sauce slightly on the salty but tasty side. (RM110 for the whole plate).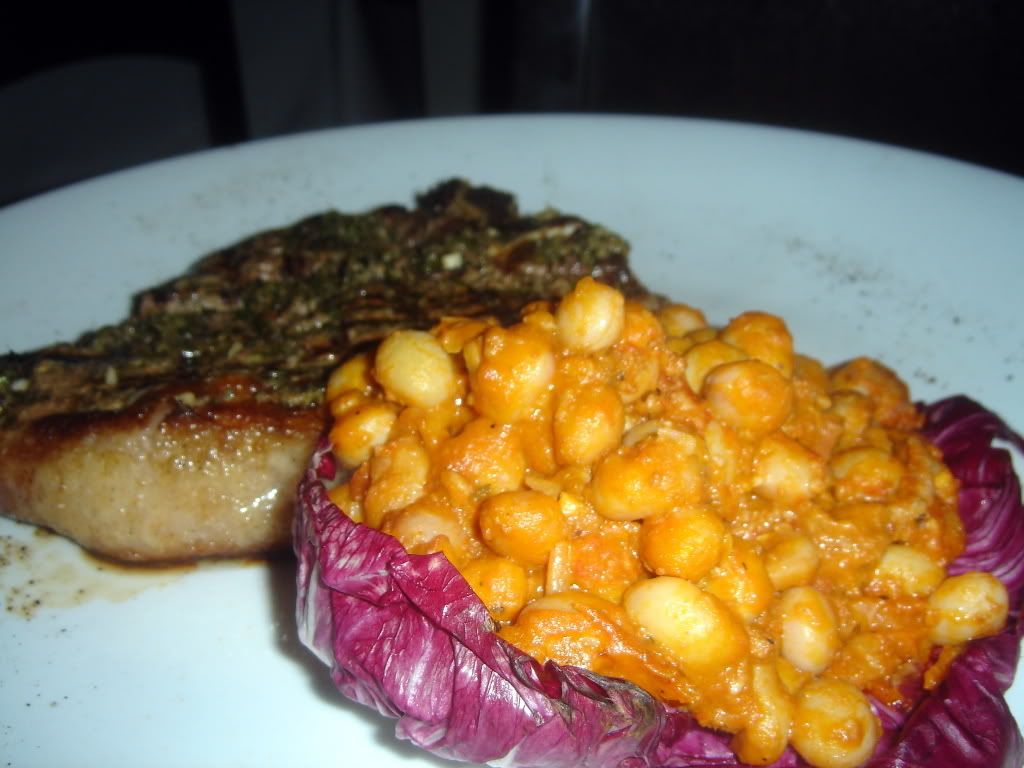 The Grilled Angus T-Bone with stewed fagiolata (which was chick peas) from Fiorentina i presume weighed at a mind blowing 800gms for RM88 was served shortly after the pasta. The thick slab of meat cooked medium is a dream fantasy for meat lovers and i am pretty sure by the end of the steak, i wouldnt be surprised if there was any orgasm involved.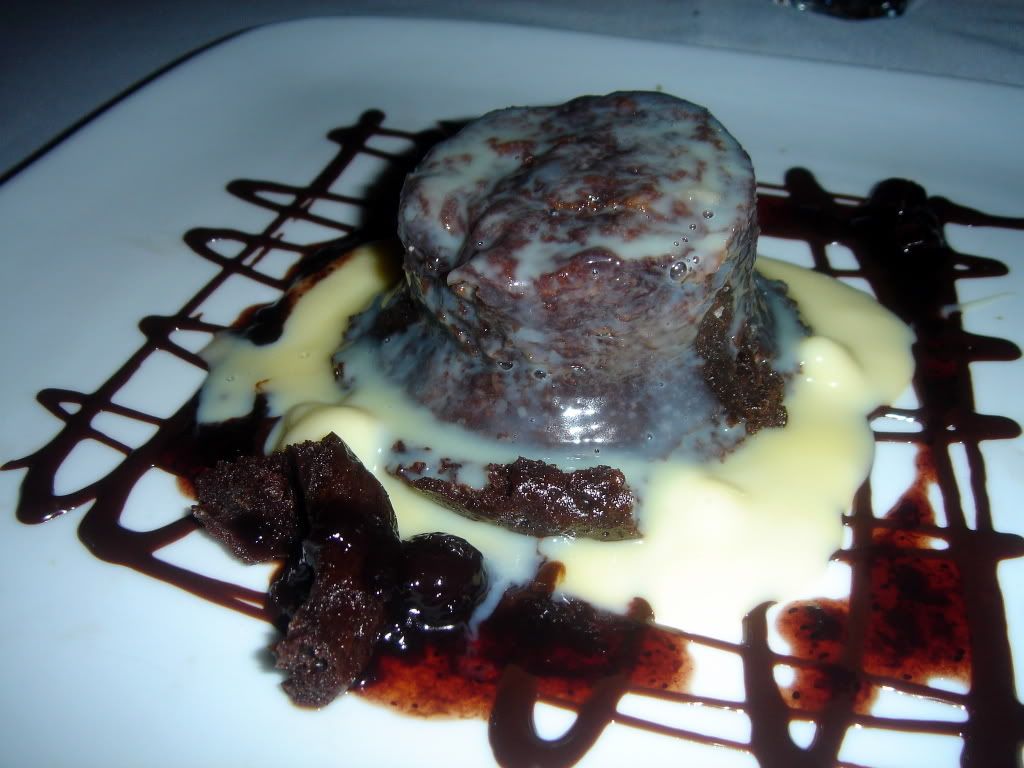 By the time we finished off all the shells and bones, dessert was the top priority and the recommended warm dark chocolate flan with white chocolate sauce (RM20) was chosen. Despite the mishap of serving my dessert half an hour later then the promised 12 minutes cooking time, i was having fun chit chatting with my girlfriend and it didnt cross my mind to give them a lecture (mainly because the spiting man image was still fresh)..

Back to the dessert, i was mesmerised by the rich chocolate cake that couldnt decide it was custard or not. I like the fact that it was confused and was accompanied with white chocolate sauce that was not pretentious and overly sweet.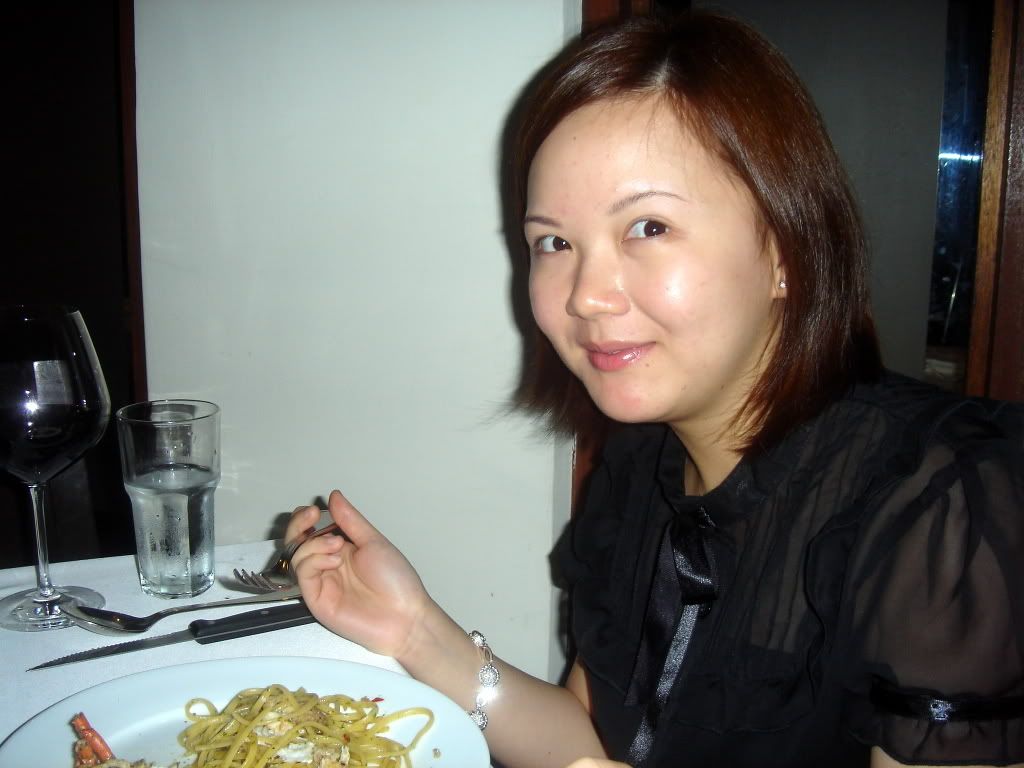 Such a beautiful ending to a well less then flawless night (the bad decision to call the lobster and waiting for the dessert). Thanks darling for the wonderful and memorable meal.
Address and contact details:
3A, Jalan Ceylon
50200 Kuala Lumpur
tel: 03/20703120
fax: 03/20703100
info@nerovivo.com
Website:
www.nerovivo.com
(The menu and prices are available)
Rating: 4 out of 5 stars
Apparently very halal with no hint of pork served.