I remembered blogging on Monday about the Peking Duck and unknowingly put up a picture that seemed to have created a stir, a whole shark fin in a bowl of superior soup. Now, the day after i had my exam and truthfully i didnt want to do anything after that. Wednesday came and i realised my photos couldnt load up from home, and i was stuck with something till late at night when the first thing i wanted to do was lie down on my bed and give it a real good snore.
It is now Thursday morning, and being the "kiasu" me i checked my stats to see it has been falling down at breakneck speed ever since Monday..is it me being lazy that drove the crowd away or the controversial shark fin?.. Or am i being my usual obnoxious self... Well back to the main topic..
A few years back, western cuisine was strictly high class so to speak. Those were the days when going to The Ship was considered a big birthday treat and paying RM30-40 for a steak was a norm. Then the boom came with a restaurants popping up like mushrooms serving "cheap" western food served fast, and eating western food was no longer considered a pride but a slightly more expensive version of fast food over McDonalds and KFC. The craze seemed to have died down with some having made their money moved on and whereas others seemed to have tried to push the quality and at the same time price up as the consumers have increased their appetite when it comes to spending money to eat outside. So back to this restaurant..
Whoever opened this place must be great Harley Davidson bike lovers..with merchandise framed all over to show their passion of the great bike, unfortunately the only thing missing is the great bike itself. Famed for their western food, they take pride by offering more luxurious items like kobe beef (which require a call in advance of a few days) and lobsters unlike the lower end western fare that would offer your usual chicken maryland (which i secretly adore) or your oily fish and chips (another affair).
Pricewise, this place seemed to offer dishes on both extreme ends with steaks coming in different size, cuts and countries and your usual fried affair. From RM15-40 and with fresh seafood and kobe counting by the gram.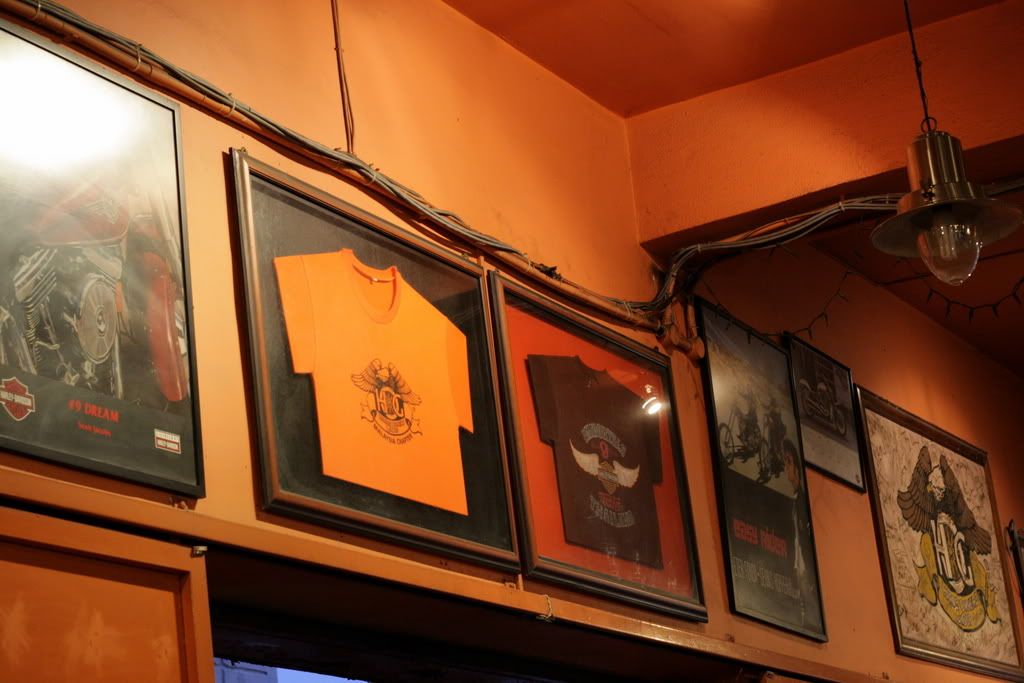 Your orange walls and your orange t shirt..double dose of orange will definitely keep the flu away..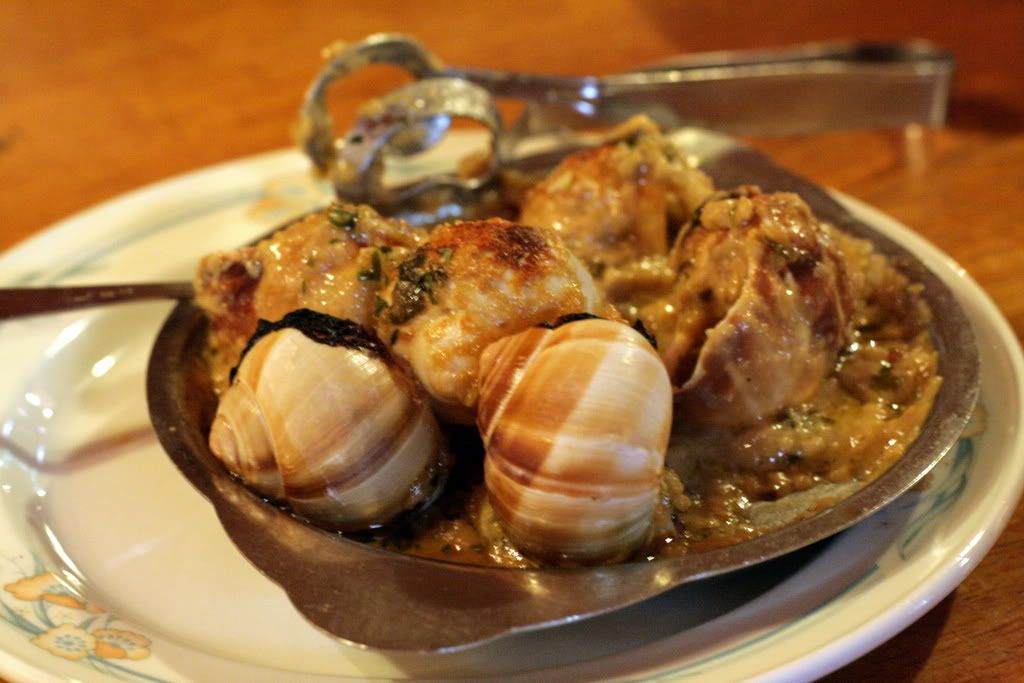 Starting off with their escargots (RM12-14), I suffer from poor memory but that didnt make me forget the strong pungent garlic sauce that was generously poured over the escargots and baked. The only complaint? The meat was too tough and excessively chewy..Hmmm..but the sauce? I just wanted to spread it all over my lamb chops and eat..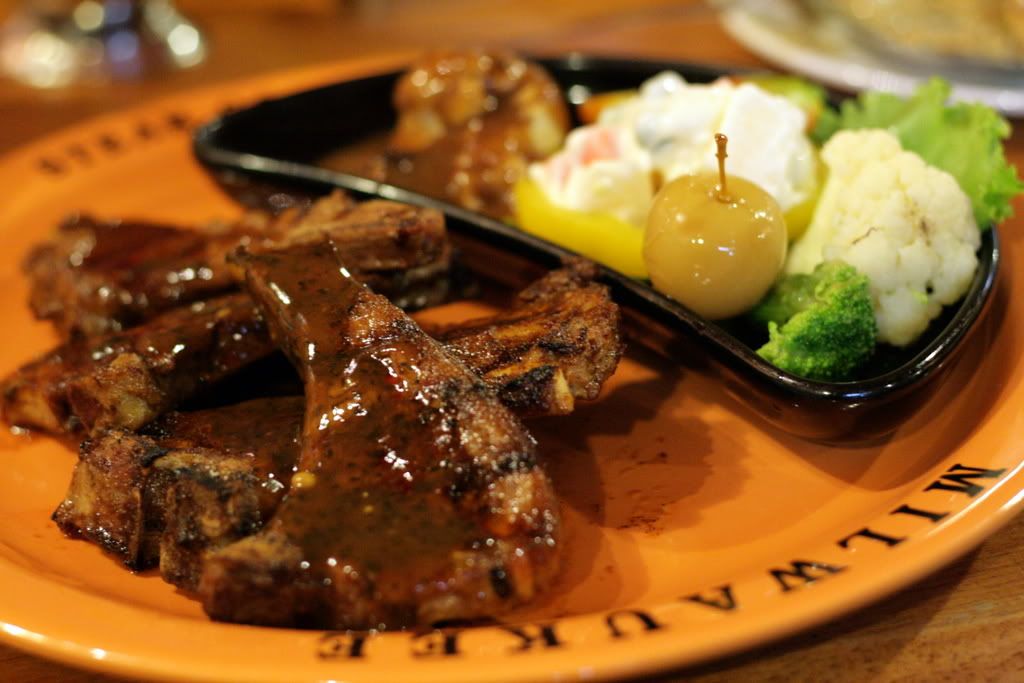 Speaking of which my lamb rack (RM34) shocked me tremendously. I always thought rack meant lots of chops stuck together in a big chunky way..Although what i got was 4-5 lamb chops with barely any meat and a huge layer of skin and fat which disappointed me.. Is lamb rack suppose to be this way??? The sides consisted of a block of mash potato that stuck tight like a ball, and i could have easily scooped it up and throw it at you and cause a bruise, enough said.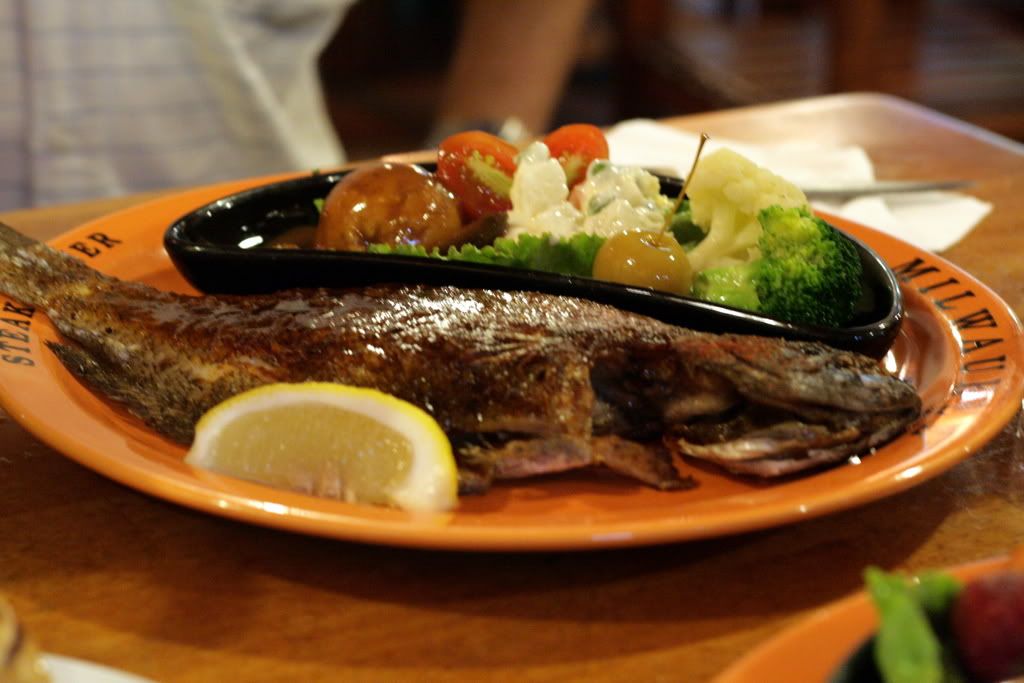 Dad ordered a fish (RM mid 20s) with flesh that tasted pretty good, but i prefer my meatier fishes thank you..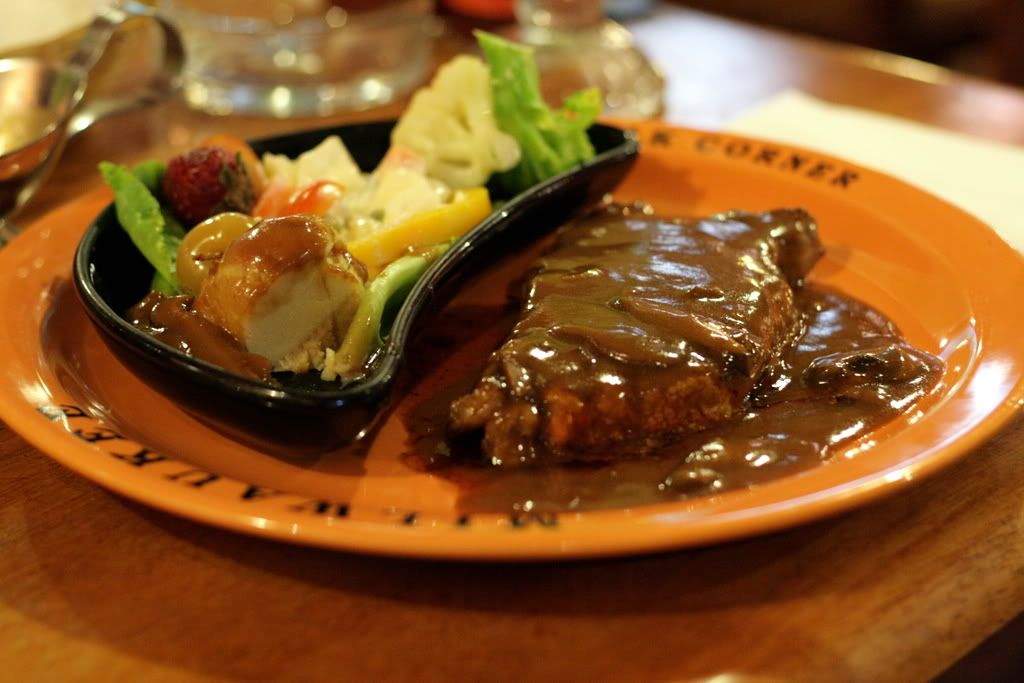 Lastly a sirloin steak that looked like my mom's ostrich steak..(RM29)
All the mains appear to have the same sides, a hard block of mash, mayo loaded mix vegetable , a piece of heavily salted cauliflower and broccoli.. Steaks comes with either mushroom or black pepper sauce although my sister heard a mumble of another sauce..oh well you can always ask for me then..
Overall, what you do get is some quality in the meat you get and of course a kick ass escargot sauce but with these prices, i once use to get the kick by going to The Ship and enjoying the prestige of walking into a restaurant serving western cuisine, moving forward plenty of years, you now can enter in a humble crowded restaurant dishing up steaks at massive amounts and speed. I guess i have really grown up and the only kick i get is entering into restaurants that will swallow my wallet whole, cash and wallet.
Address and contact details:
No.13G, Jalan Kasturi 1
Plaza Kasturi,
Off Jalan Balakong,
43200 Cheras, Balakong
Tel: 03-90764522

A decent 3 out of 5 stars..