For some reason eventhough i have the halal readers at the back of my mind, i cant help but indulge in the forbidden item, pig aka pork. When i look back at the food i have over the weekend, i cant help but have pork at every single meal. Infact, there were restaurants that are experts in cooking this meat and one of them is El-Cerdo.
This place is opened by Mr Werner that specialises in all parts of the pig, from knuckle to the whole piglet as well as having the most variety of preparations i.e. the ham, oven roast or a simple grill. Always constantly improving on their dishes, the sms i received awhile ago informed that the german pork knuckle came with an improved 3rd version. I smiled and secretly laughed at the corner as i planned to raid the place for that huge piece of pig.
So i did, one fine day the day before my birthday with my 2 friends. Arriving early as our saliva drooled as we reached the front of the restaurant. Once seated, i was served with that ice cold beer that i showed you guys on Friday and followed by a small little cup of tomato soup.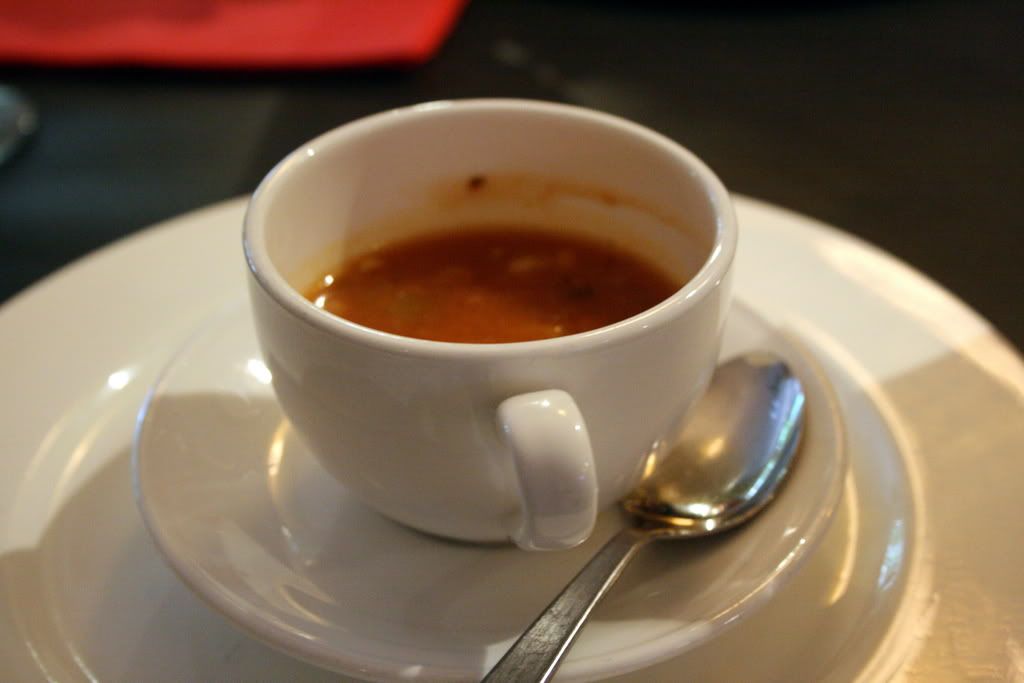 Complimentary and filled with tiny pieces of pork sausages, it was such a delight but such an evil plan to perk up my appetite for what was suppose to come.
Now although El-Cerdo is well known for their piggies from Spain and Germany, they are also perfectionists when it comes to cooking seafood. Ever sine i tried their paella which was filled with these huge crunchy tiger prawns, i swear that i will need another dose. I wasnt disappointed with the Tiger Prawns Salad at RM28. Not cheap but definitely cheaper then any of my other addictions, especially my camera equipment.
After another light dish, we were teased with a grilled Pork Shoulder. Being in an expensive restaurant, there must be a special mention of how attentive they were. Without being told that we were sharing (although very obvious), they gladly without any surcharge served the dish in 3 different plates without us digging in from the middle and making a mess out of it.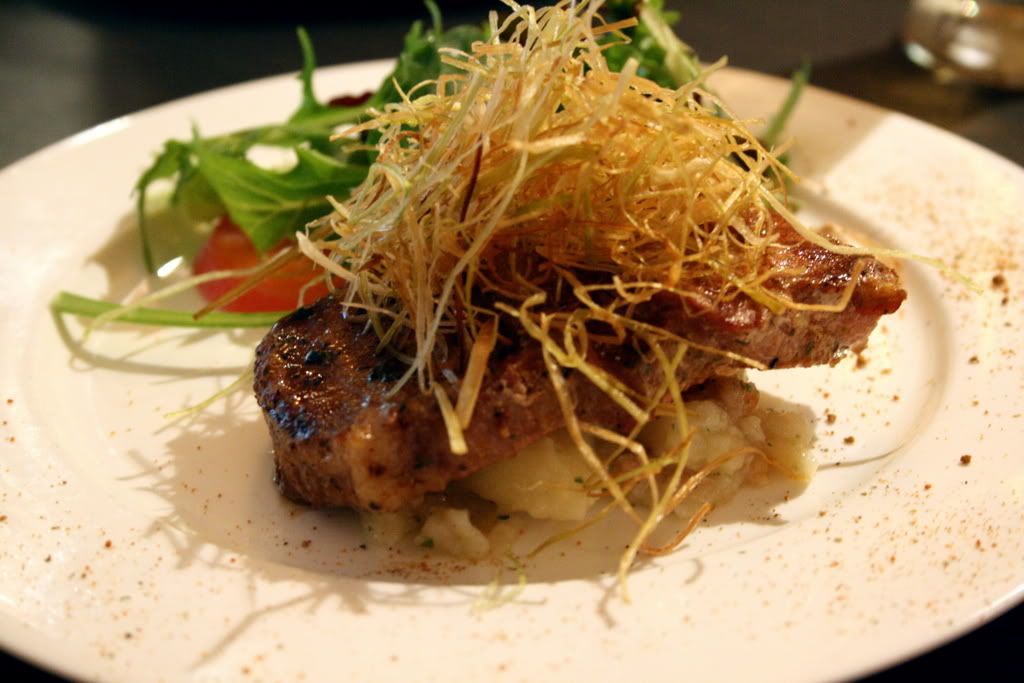 Our individual serve (the whole plate is RM40++), The meat was just right although my friend claimed it was too dry. To be honest, call me a Chinaman but i prefer my pork to be cooked through and through as unlike beef, i do not want to end up in hospital. Still pinkish in the centre, the meat had the right balance of chewiness and the potatoes and salad that came along served its purpose as a side dish.
Then came along for the main dish for the night, the German Pork Knuckle version 3. When i asked Mr Werner about the improvements, he made a comparison with his dish to the software, Windows. There will always be upgrades just like how Windows 95 was upgraded to XP. He also mentioned as we speak, there maybe version 4 or 5 until it is perfect. Part of his method was revealed, the knuckle is roasted in the oven at 70 odd degrees for 10 hours! before the final touches are made. The meat was way tender as compared to the previous version, more acceptable and more "user friendly" aka didnt cause my jaws to hurt after chewing.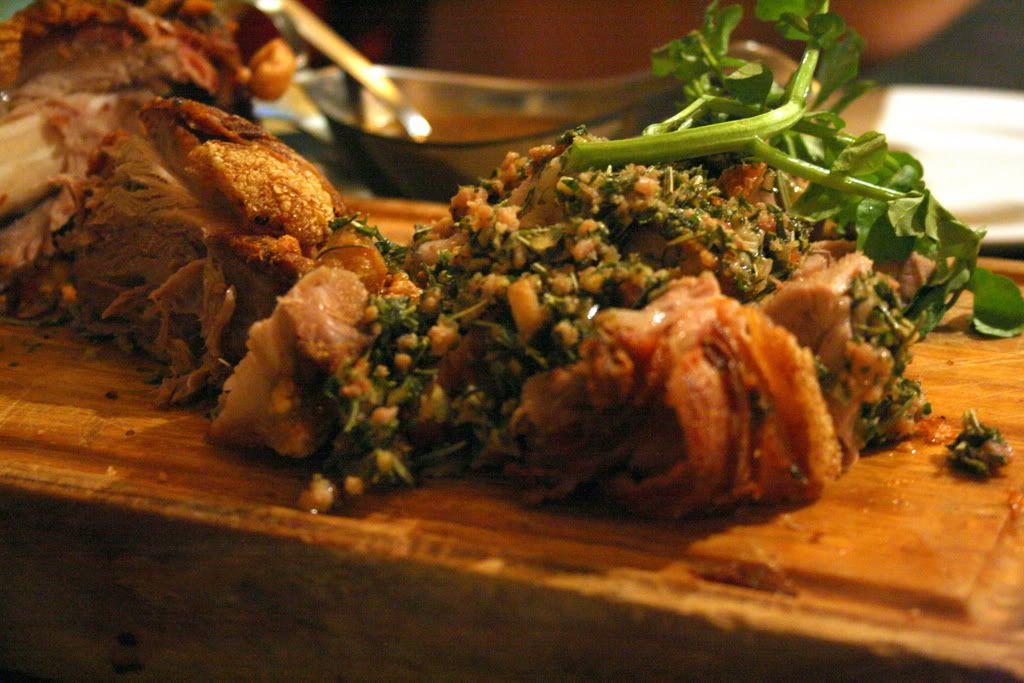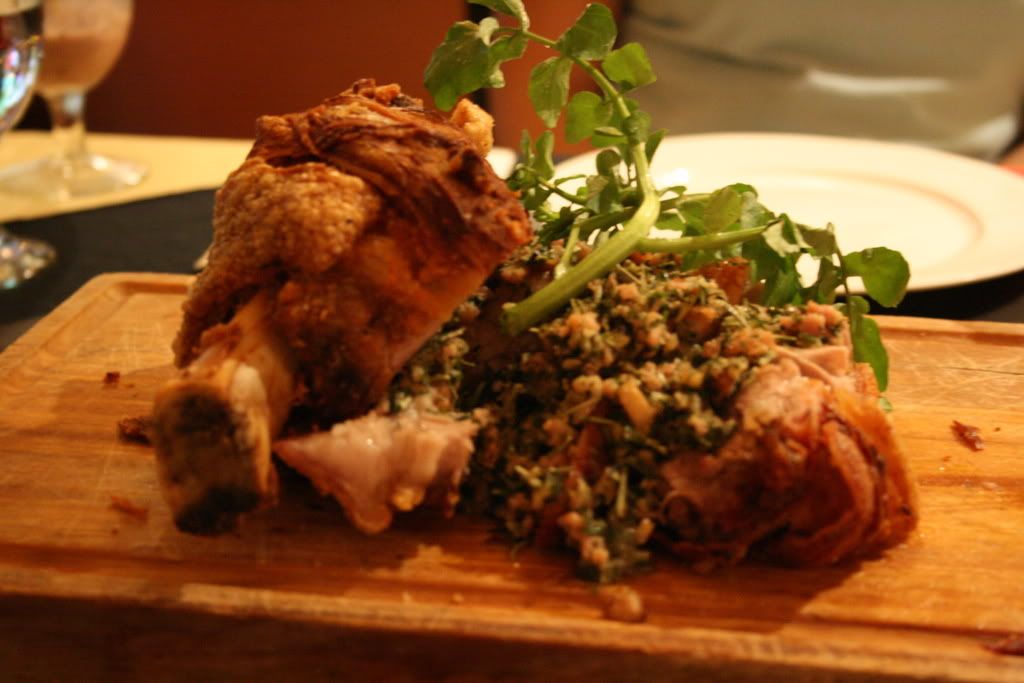 The stuffing that came with it was a delight and the crispy skin and firm meat is unexplainable. I am just lost for words as i cant stop wiping saliva off my mouth as i type up this review. If this is not perfect, i seriously dont know what his definition of perfect is (RM90++).
Licking away the bone, we then proceeded with desserts. Girls always have a separate stomach for desserts but guys? They always have a stomach for anything and everything.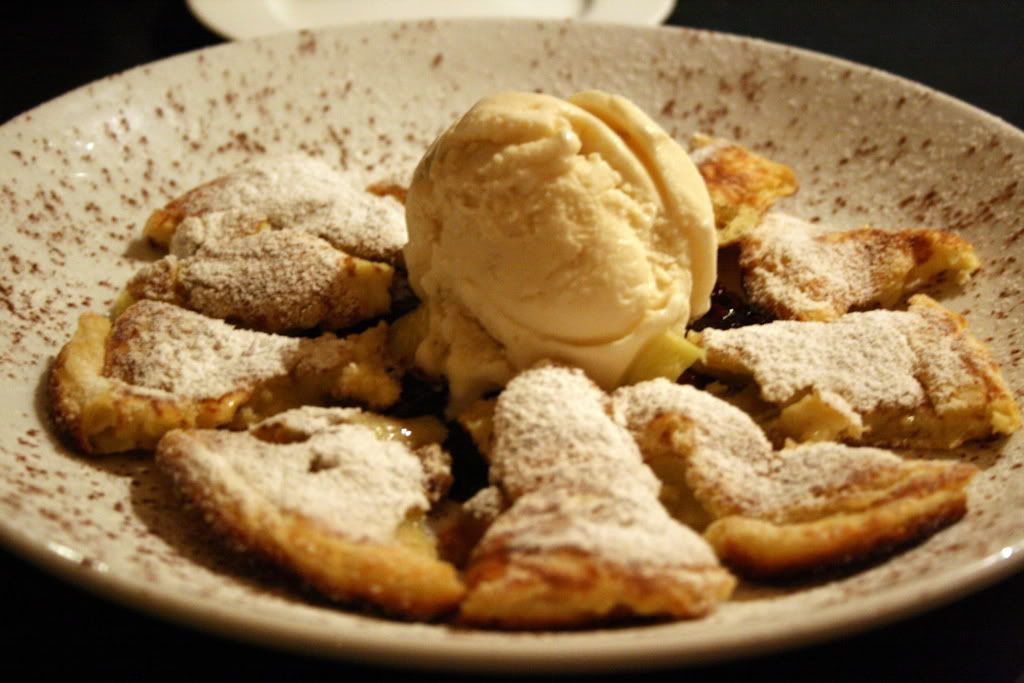 The rum and raisin pancakes served with a sinful scoop of rich vanilla ice-cream. The outstanding thing was the soaked raisins that gave it an oomph as you bite into it followed by a spoonful of ice cream.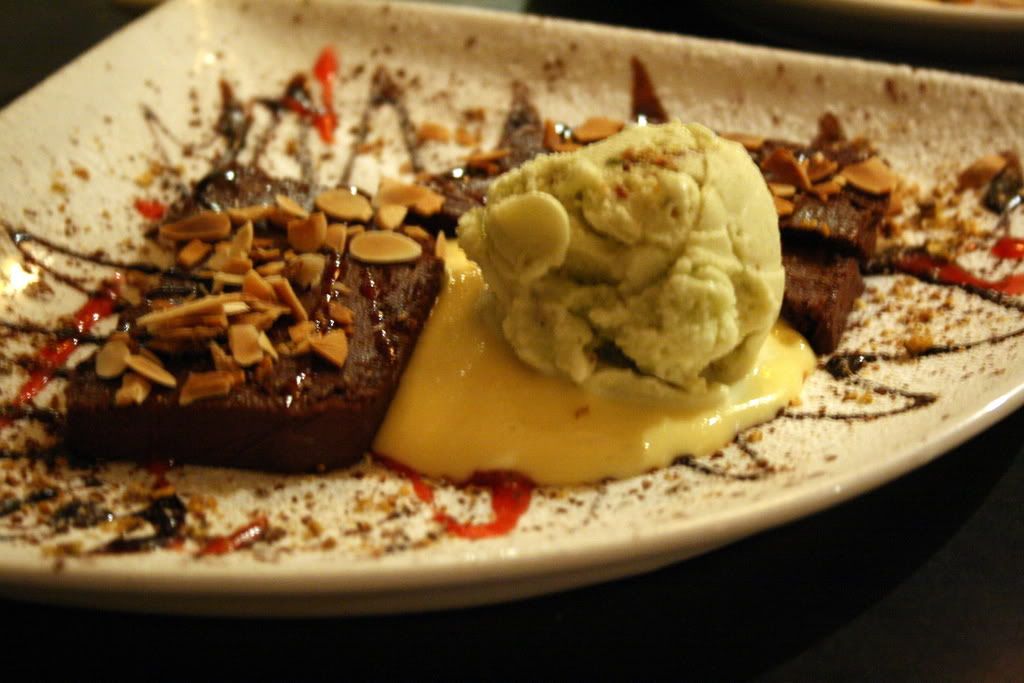 The Chocolate Terrine with custard and pistachio ice cream. Although the combination didnt tickle my fancy, we actually loved this as compared to their best seller, the pancakes. The rich chocolate and the creamy custard complimented by good pistachio ice cream is about the best threesome combination one can wish for.
Overall a very good dinner with a bit of chit chatting about our friend new pet, a pussy named Helios. Thank god, she didnt buy a pig for a pet, if not it will haunt us that we didnt get to try the piglet this time around.
Address and contact details:
No. 43 and 45, Changkat Bukit Bintang
50200, Kuala Lumpur
Tel No: 03-21450511
www.elcerdokl.com
Rating: 4.5 stars out of 5 stars, what else would you expect for a top class restaurant that served me excellent food. Beware of the tradition of eating the piglet though, you wouldnt want to have your candlelight romantic dinner here on the weekends, its err abit noisy as you will find out. Oink! Oink!
PS: For all my local readers, i am planning to embark on a project that involves tasting the top 3 signature dishes that the restaurant will recommend and the first area that i am targeting is Changkat Bukit Bintang/Tengkat Tong Shin. Guess what? El-Cerdo is the first place! Tentatively held on either 31 October or 1 November 2007, please let me know if you are interested!