This is again another review as fresh as you can get it, a simple dinner in a simple restaurant yesterday. Recently i have been asking myself if i have been half hearted in serving my readers with reviews and my random posts..A blogger of mine also voiced that sometimes you are just so absorbed with work life and social life, that you just cant be bothered..When you are half-hearted, you might as well not write..Although i think otherwise, somehow the responses to my reviews seems to be have dwindled so i guess the half-heartedness does show in what you write..
So let this weekend be two nice days for me to recuperate and hopefully i am back with lots of cravings although its more like lots of weight at the moment..
Back to the food, a nice big banner saying RM18 a kg of crabs caught our attention as we drove down the long street of Connaught searching for dinner.. Although my mom hates to eat crabs during dinner, i insisted hehe...since it was RM18 until i got to know that the sizes were puny as RM18 would get you 3 crabs..just imagine how "big" it is.. so the next size up was RM35 a kg which was 2 crabs worth..oh well..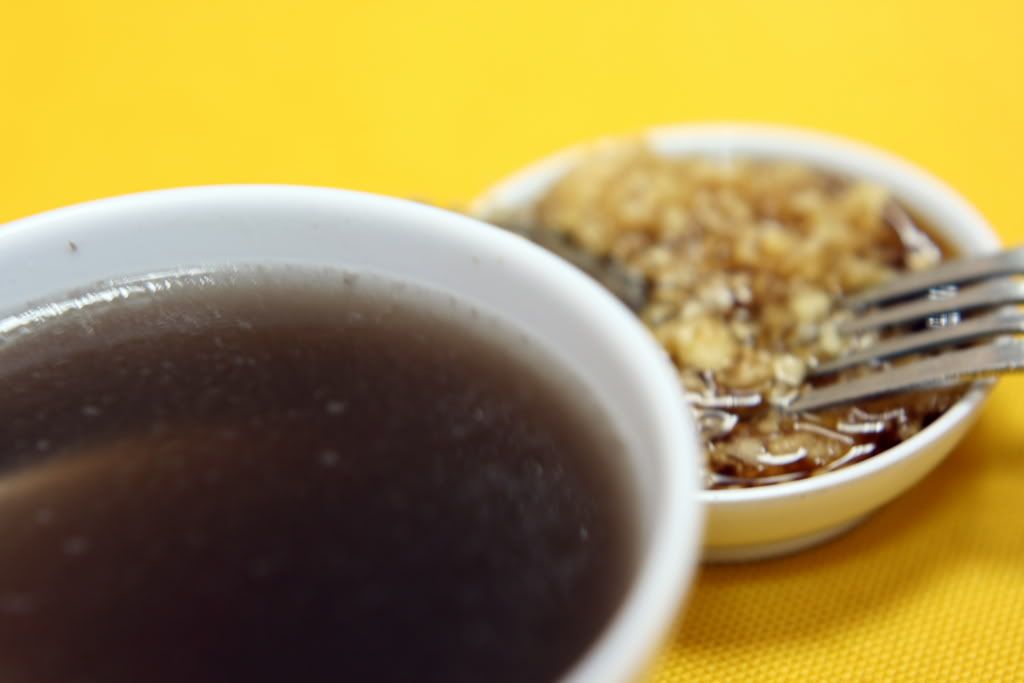 I barely had any time to setup my damn baby when the soup followed by the dishes came..which was a matter of minutes really..A complimentary black bean soup which is meant to be really healthy although alot of home cooking had some what dampen our taste buds..which meant the soup was a bit on the salty side..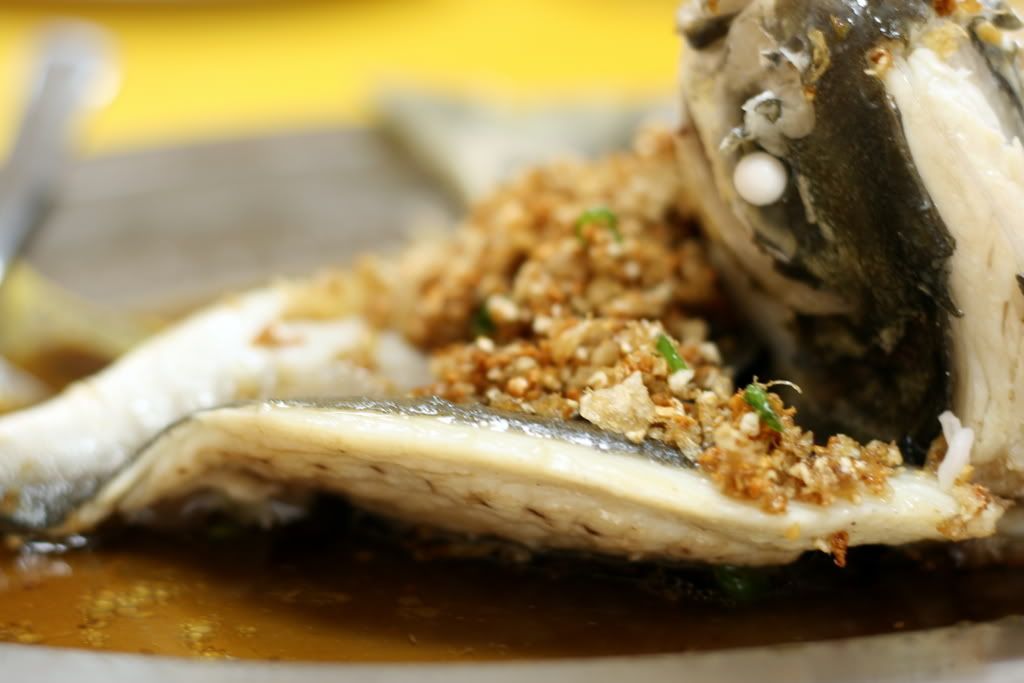 The fish came quickly and suddenly i was lost..I somehow couldnt remember which settings to use.. I couldnt get a clear picture like those days of point and shoot.. Argh!..Hopefully this picture does justice.. The Choy Poh Steam Keng Chong (a family of the promfret).. the meat was solid and gave me a similar feel like the fish i had in Semenyih..its as if this wasnt steamed but poached with oil..the choy poh was mild but the freshness of the fish was excellent..Rm50 a kg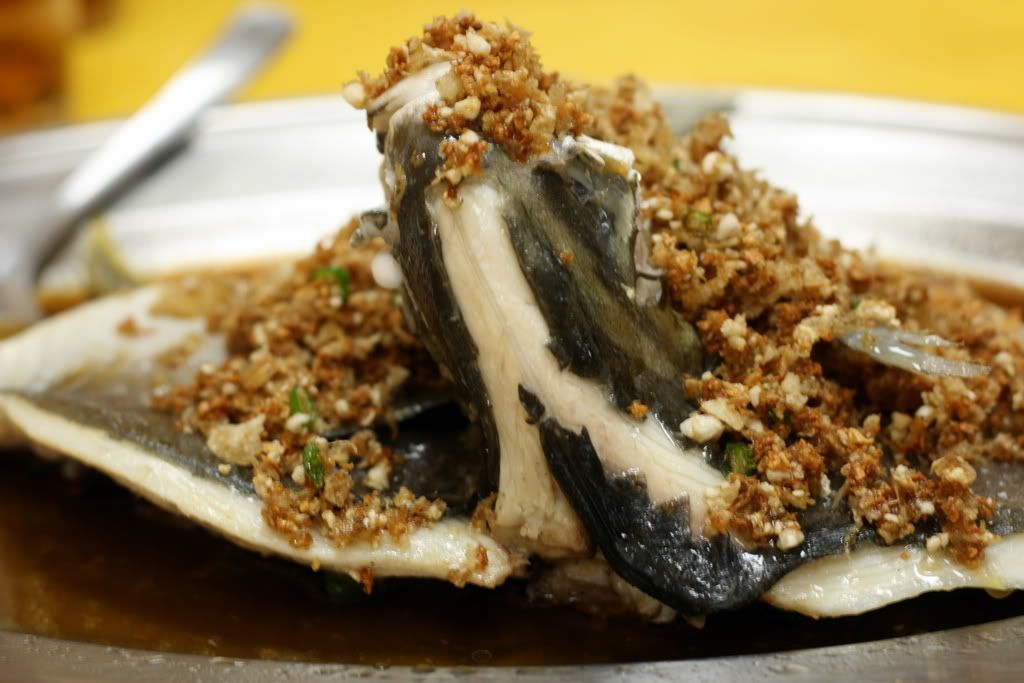 Steamed in a somewhat creative manner..dont you think? I believe this method is to prevent people from turning over the fish..the old people say its no good and its especially bad luck for the fisherman..anyone care to comment?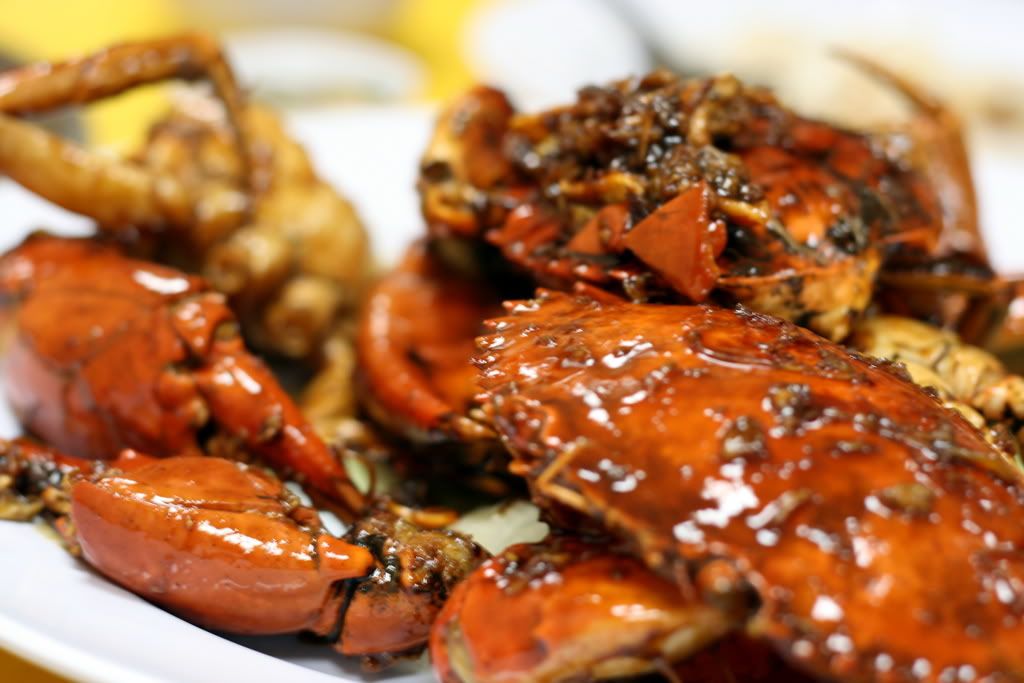 The RM35 a kg crabs..cooked with Wong Zhou (Chinese Wine).. Apparently the wine is "made" by themselves and thus results in an additional RM6 to the dish..I was imagining a steamed dish..but the dish somewhat reflected a stir fry dish.. the sauce was sparse and the ginger was rare.. although licking on the shells and biting into some of the meat made it known that the wine evident..i enjoyed the licking the shells very much.. the meat was very solid..its as if the crabs went through a gym session before it was cooked or it was on steroids haha..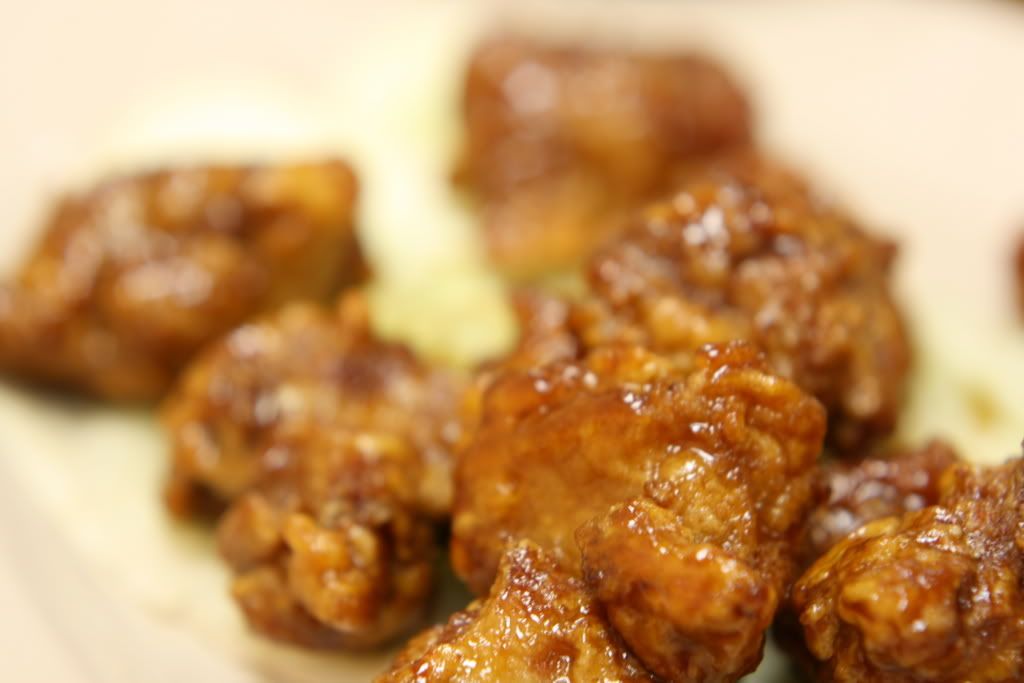 The Coca Cola Pork Ribs.. Honestly i couldnt taste much cola at all.. it was sweet but thats it..maybe its hinting that instead? An ok dish but brightened my sister's day because shes so into ribs..
Finally a belachan kangkung that was again on the tasty side aka salty.. But thats just our dampened taste buds..may differ with different people..
Judging from the dishes, this place is just a simple tai chow place with an air-conditioned area at the top for some comfortable dining.. Dishes were not exactly bad but not mind blowing either..just like your neighbourhood restaurant where you need to get your dinner fix.. Great for the Cheras guys around as it opens to 2am..so you can throw away those mamak food and get some decent noodles here instead..A fair 7.5 out of 10 for this place..
Address and contact details:
No. 98, Jalan Cerdas, Taman Connaught
56100 Cheras, Kuala Lumpur
Tel 03-91001996
Opening hours: 12-3pm and 5pm to 2am