Benchmarking..what about it? Thats what i usually do when i measure fun.. I always benchmark against one of the rarer moments when we had tons of laugh and fun, whether alcohol or food.. But somehow or rather, i cant define the best moment i had with all these floggers, mainly because every single floggers event has been so memorable, leaving me in stitches and joy eventhough on occasion, i find myself with a hole in my expensive wallet..

So what did we do last Saturday..We had a dinner "party" of 14 including myself and my girlfriend, having dinner with 12 virtually unknown people, some i met twice..but laugh and talk as if we known each other for years, others i know them by their online identity..So who are they?? Lets see, Jason, WMW, Sooyin, Mavis, Paprika and Hunky (Mikhail although i thought it was Mikel), Nigel and Allan, Meena and Bald Eagle, Boo and Splashie Boy and of course us.. Links? I am abit too lazy..there should be all under the exclusive list of blogs that i read..

So what else should i talk about given that i have 20 minutes before i start work at my client's office about a dinner that lasted from 8.00pm all the way to 11.30pm bearing in mind i was the first one to leave..? Tons of laugh and chatting..tons of cam whoring..for the food that is..I was suddenly intimately closer to everyone because of my infamous photo.. i am still waiting to get famous by the way.. One thing though, i went away knowing that i made a bunch of friends that i would love to keep for a very long time to come..and of course i was also brain washed and on the verge of being converted to a dslr camera user, took dummy lessons on photography and yes..finally lets talk about food..i think pictures says a thousand words..and i shall leave you with the long awaited pictures..


Unlimited flow of bread with reduced balsamic vingear and olive oil to stuff our mouths when we were resting it from laughing and talking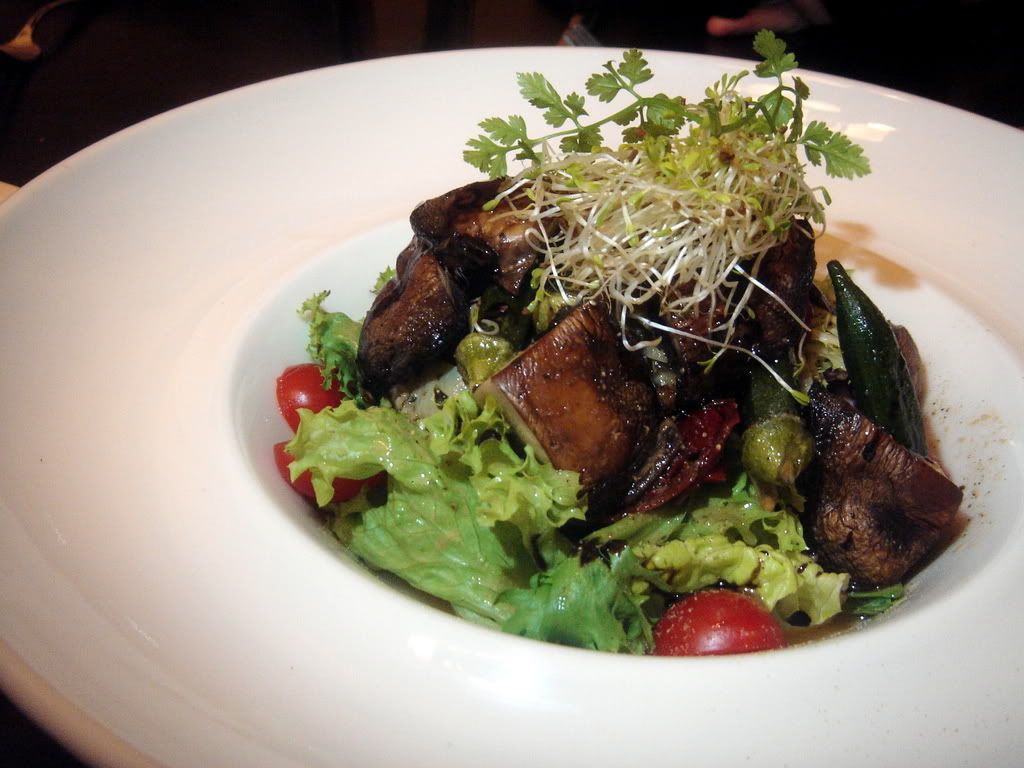 A beautiful portobello mushroom salad with okra and cherry tomatoes..
Yabbies..hmm yumm avocados and crayfish..how wrong can one get with these awesome combination? i reckon a few more plates will not deter me from ordering these again (Rm35)
Sea scallops and basically tuna jerky in the middle..so beautiful..i realised how useful my phone was..the lighting that it provides..it was as if we had a mini studio for food..
The Pepper Crust Rib Eye with mustard sauce..(RM50) tastes as good as it sounds..a virtually perfect combination that you just cant go wrong.. It was perfectly cooked as ordered..medium with no blood spilling out but still reddish inside..
The Two Ducks..Cooked two styles thus the name, we had a tangy and sweet one on the left..and the roasted one on the right..the left one stole the show although with only four thin slices it overpowered the more subtle roasted one on the right..perhaps i could it get it all done up in the style on the left? (RM40)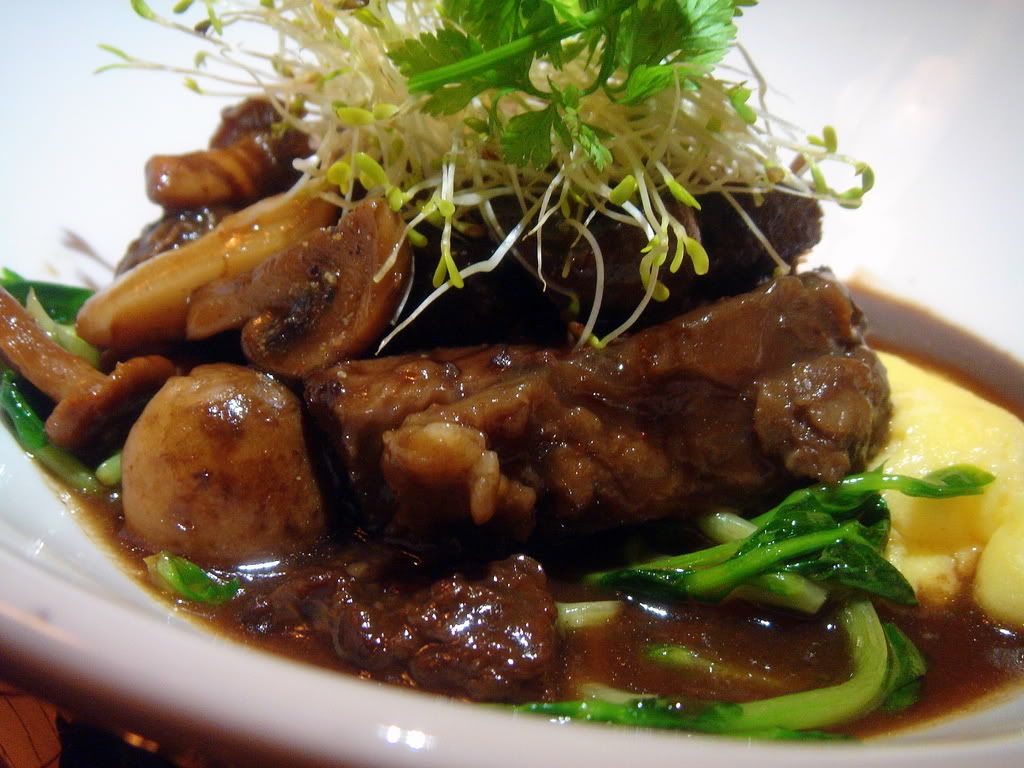 The champion dish that actually got me to go back to this place twice to order the same dish..The Wagyu Beef Cheeks..i could see WMW and Lyrical Lemongrass just about to tear as they close their eyes and had that "orgasmic" look before they cut another bite and let it melt in their mouths..its that wonderful..only for RM60
The White Chocolate Tart that Meena guarded with her life from cameras and spoons..
Our Chocolate Souffle that felt abit heavy after being enlightened by some professionals..I feel so enlightened..
Another thing i learnt from these bunch of floggers is the appreciation for food, the taste for food instead of gobbling down everything because its easy on the throat and tastes good..The ratings and details? All in part 1..
I am just laughing alone in a meeting room as i upload all these pictures, the memories..hahaha..